#CanYouRespectNiall? 1D Fans Are Fuming After A Fan Soaks Niall's Guitar
24 October 2015, 06:00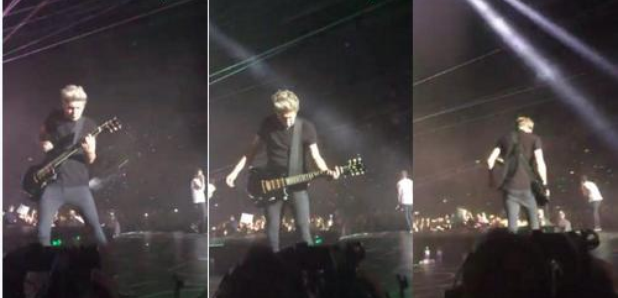 Did we mention it was an electric one as well? Niall was understandably NOT happy.
There's no denying it's been one hell of a week for One Direction, but then again, whenever is it not tbh?
However, after all the mayhem of the last-minute cancelled show, the 'Perfect' music video dropping out of nowhere and their new song leaking, THIS, this has really taken the biscuit.
The One Direction lads were playing one of their final #OTRA shows last night in Belfast
Some fans need to be more careful, you can't just do things like that. Think about the boys ffs #CanYouRespectNiall pic.twitter.com/0P0TL4Foge

— Ramona ♡ (@iSmileForAri) October 23, 2015
Niall's mentioned countless times before that he'd really prefer it if he didn't have things thrown at him.
And of course it didn't take long for 1D fans to weigh in on the culprit.
TO WHOEVR THROWS WATER ON HIS GUITAR, BC THE GUITAR IS MORE VALUABLE THAN UR EXISTENCE ON EARTH #CanYouRespectNiall pic.twitter.com/XMH2obuJzi

— jing. (@nochill_JANE) October 23, 2015
It's just a bit daft really isn't it? Firstly, it was an ELECTRIC guitar he was playing but like, what was the fan expecting? It's not as if Niall was going to be thankful for an impromptu shower!?

And finally, we're just gonna leave this video here...