One Direction's Niall Horan Shares Picture After Meeting His "Hero" David Beckham
9 August 2013, 10:29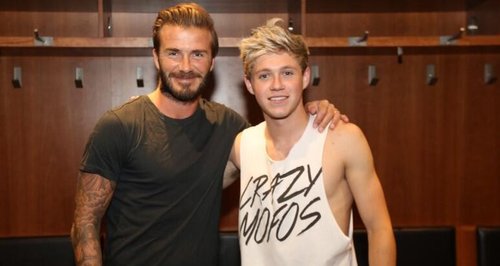 The 'Little Things' singer says the former Manchester United footballer is an "absolute legend".
One Direction star Niall Horan got to meet his hero this week after David Beckham showed up to the band's concert out in Los Angeles.
The 'Kiss You' star and his bandmates are performing all this week at the Staples Center in Los Angeles on their 'Take Me Home' tour, and the retired footballer stopped by with his family to say hello to the UK stars.
"Met our footballing hero! Mr David Beckham!" Niall tweeted this week alongside a snap of him posing with the former England football star. "He brought the boys and his little girl to see us! What a Nice Man! So courteous.
"What a great guy! Great t meet him! Absolute legend!" Niall added, before going on to praise the Los Angeles crowd: "Always good t be here! Unbelieveable show tonight at the sales centre! Thank you!"
Earlier this week the band held a private concert for fans where they also unveiled an updated line of action figure dolls that have now launched in America.
One Direction are set to take their 'Take Me Home' tour over to Australia and New Zealand in September.