WATCH: Liam Payne And Louis Tomlinson Almost Kiss On Stage And The Internet Freaks Out
13 October 2015, 10:59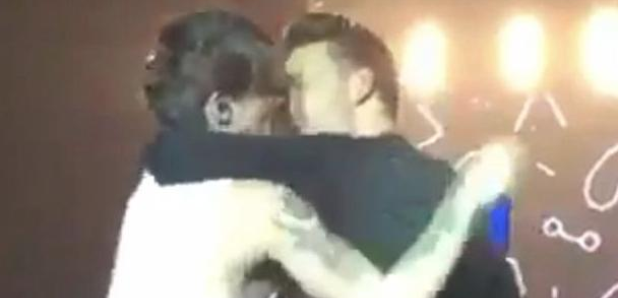 When a bro hug almost turned into an almost-snog on stage in Birmingham, the internet spawned some of the best reactions ever.
It looks like these two have DEFINITELY kissed and made up after last week's rumours that Liam Payne had shoved Louis Tomlinson on stage – now they're sharing a cheeky smooch instead!
The internet pretty much went into meltdown after footage emerged from One Direction's recent tour date in Birmingham where it looked like Louis and Liam almost ended up accidentally kissing as they whispered in each other's ears.
OF COURSE the fans went all out to create some excellent memes celebrating the fact that two of their faves almost pashed.
"who's going to sleep on the couch tonight?" #lilokiss pic.twitter.com/OQqeMC1vKe

— niall horan (@haIseyftniall) October 12, 2015
'Cause baby now we got bad blood #lilokiss pic.twitter.com/ijdaQE7WJt

— lucifer,, (@LARRYRELIGI0N) October 11, 2015
harry when louis comes home after the #lilokiss pic.twitter.com/SWaGAAuoeO

— ness (@lwtprettylaugh) October 11, 2015
Harry @ liam after the #lilokiss pic.twitter.com/GLj27S8VG6

— nat (@daggertattooH) October 11, 2015
THIS FANDOM IS SO FAST AND HAS NO CHILL #lilokiss pic.twitter.com/7XTzeasZEV

— natalie (@zaynbaabe) October 11, 2015
It looks like it's definitely all love in the 1D camp after the ridiculous rumours surfaced last week that Liam had shoved Louis out of anger, when in fact the video shows that Liam was retaliating after Louis jokily hit him in the bits.
Well, we're just here enjoying the hilarious internet reactions - we do love the #LiLo bromance!