Harry Styles And One Direction Respond To Taylor Swift's MTV VMAs 2013 Diss
28 August 2013, 10:45
The 'Little Things' star says he can "take a joke" when asked about her comments at the event.
One Direction singer Harry Styles has spoken about Taylro Swift's comments at this past weekend's MTV Video Music Awards 2013.
The 'I Knew You Were Trouble' singer was accepting the award for Best Female Video when she thanked the inspiration for the track.
She has previously stated the song was based on the boyband singer, and he told reporters at the New York This Is Us movie premiere he didn't mind too much.
"It's alright, she likes a joke," he told Extra. "I like a joke as much as the next guy, so it's all good."
He was also spotted in a Twitter picture posing with his former girlfriend and close pal Ed Sheeran.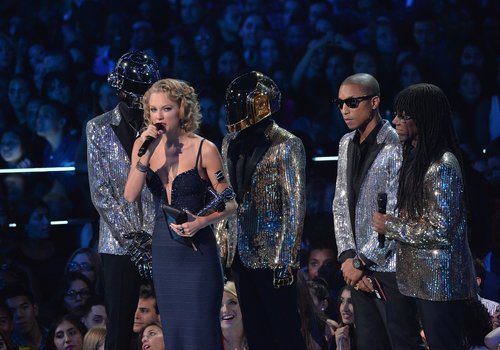 Speaking about the snap, he said: "Yeah, I went for a drink with Ed and some friends. It was good."
Harry's bandmate Louis Tomlinson was less impressed with Taylor's comments branding them unnecessary.
"I just thought it was a bit not needed," he said. "I mean, you just won an award, it's like, concentrate on yourself!"
Justin Timberlake and Macklemore were the big winners of the night with One Direction also scooping Song Of The Summer with 'Best Song Ever'.