One Direction Fans Left Devastated, As Online Store Closes Down
6 September 2018, 11:19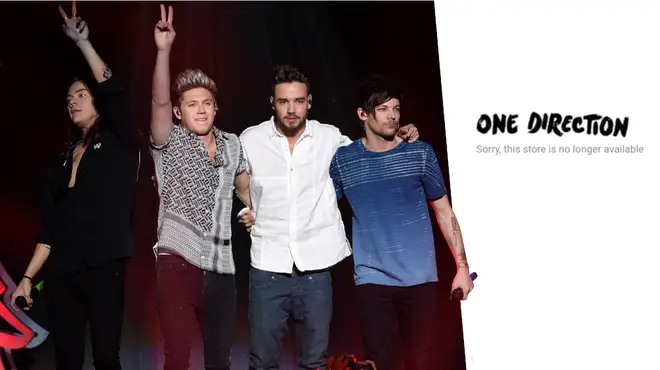 1D have closed their online store, meaning fans can no longer buy their merch, leaving their millions of followers distraught.
One Direction announced they were going on hiatus in 2016, and ever since, there's been a 1D-shaped hole in our hearts.
However, their millions of followers have been left devastated after the band's online store officially closed.
> QUIZ: Prove You've Been A Directioner Since Day 1 & Finish Every Lyric Of 'What Makes You Beautiful'
The shop which used to sell merchandise for Harry Styles, Liam Payne, Louis Tomlinson and Niall Horan closed, leaving only a statement which reads as "Sorry, this store is no longer available".
While some fans were optimistic that this could just consist of a rebrand for that section of the website, other Directioners were led to believe that this could mean that 1D will never come back.
what if one direction is finally over and after all they couldn't get the rights of the band and get another name to try keep going with the group but finally decide to go on separate ways.. I'm sorry but since they put the 1d store down anything could happen and I'm not prepared pic.twitter.com/ZfPJQV0859

— odalys ◟̽◞̽ (@LOUISPR0MISE) September 4, 2018
1. The store website closed
2. The music website will close
3. The bands account will deactivate
4. Louis will remove 1/4 of one direction
5. 2020 will pass
6. Rumors
Conclusion:
One direction have officially called it quits after being on an extended hiatus.

— PINNED (@ONEDVotingacct) September 5, 2018
I'm scared. One Direction closed down their online store. What if that means the end of them.....

— claire misses H (@tommoftlawley) September 5, 2018
> Grab Our App To Help Ease The Pain Of The Loss Of 1D's Online Store!
All we know is that we're just going to have to spend all of this month's wages on Harry, Louis, Niall and Liam's individual merch, right?