Olly Murs – 'Wrapped Up' (Live At The Jingle Bell Ball 2018)
8 December 2018, 20:56
THIS is how you do a Jingle Bell Ball set – Olly Murs absolutely smashed his performance of 'Wrapped Up'.
You can always rely on Olly Murs to put on one heck of a show, and his performance at Capital's Jingle Bell Ball with Coca-Cola was no exception.
Capital's Jingle Bell Ball 2018: How To Watch, Listen & Stream
Olly brought a host of his biggest hits for his fifth time taking the #CapitalJBB stage, and 'Wrapped Up' was definitely a crowd favourite.
It's no mean feat trying to get 16,000 people singing and dancing in unison, but if anyone can manage it, it's our Olly!
Olly Murs – Jingle Bell Ball 2018 Set List
'Moves'
'Troublemaker'
'Dear Darlin''
'Dance With Me Tonight'
'Wrapped Up'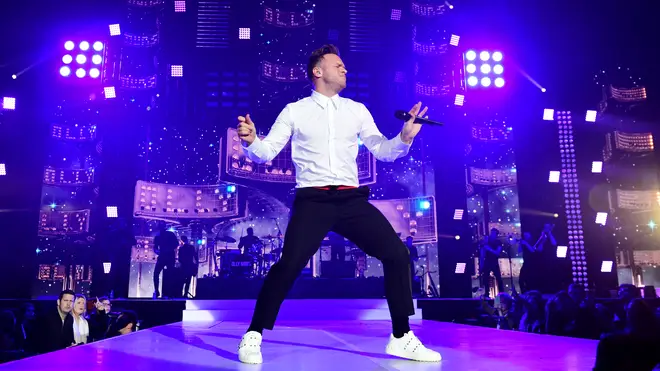 Olly Murs – 'Wrapped Up' Lyrics
Now excuse me if I sound rude
But I love the way that you move
And I see me all over you now
Baby, when I look in your eyes
There's no way that I can disguise
All these crazy thoughts in my mind now
(There's just something about you)
You got the lock
I got the key
You know the rest
You know just where I wanna be
Don't ever stop controlling me
I kinda like it when you bring me to my knees
You got me wrapped up
Around your finger
I'd do anything for your love now
And when you touch it, the feeling lingers
Takes me up so I high I can't come down
(You got me wrapped up, baby)
I don't ever wanna give up
All this spell you got me under
I see fireworks when we touch now
(There's just something about you, you)
Your body fits on mine like a glove
Let them say whatever they want
It's too late 'cause you're in my blood now
(There's just something about you, you)
You got the lock
I got the key
You know the rest
You know just where I wanna be
Don't ever stop controlling me
I kinda like it when you bring me to my knees
You got me wrapped up
Around your finger
I'd do anything for your love now
And when you touch it, the feeling lingers
Takes me up so I high I can't come down
Girl, you got me wrapped up
You got me so, so wrapped up
There's just something about you
You wrapped up
You got me so, so wrapped up
There's just something about you
Ok, my princess so intelligent
Make me wanna re-apply to school for the hell of it
I'll be the student, you be the teacher
Ms. Sophisticated, such a pleasure to meet ya (hello)
Yeah, but here's the only issue
Since we met you kinda turned my world upside down (upside down)
And I don't really mind Spiderman kissing you
As long as you're planning on sticking around
The "Happiest Boy In The World" Award goes to me
Not a chance, nobody came close to 'em
I kinda knew you was troublesome
You got me wrapped around your finger like bubblegum
Everything that you do (everything that you do)
Every way that you move
There's just something about you
There's just something about you, you
Everything that you do
Every way that you move
There's just something about you (there's just something about you)
Girl, you got me wrapped up
Around your finger (around your finger)
I'd do anything for your love now (anything for your love)
And when you touch it, the feeling lingers (yeah)
Takes me up so I high I can't come down
Girl, you got me wrapped up
You got me so, so wrapped up
There's just something about you
You wrapped up
You got me so, so wrapped up (you got me wrapped up)
There's just something about you
> Download Our App For The Latest #CapitalJBB News