Miley Cyrus Hopes Britney Spears Team-Up Is Her Next Single: "That Would Be Awesome!"
10 October 2013, 11:49 | Updated: 10 October 2013, 11:59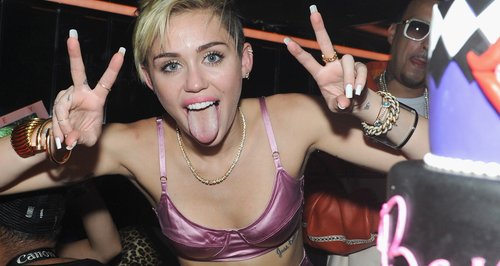 The 'Wrecking Ball' singer also admits she "can't quit" thinking about what their music video would be like.
Miley Cyrus says she "hopes" her Britney Spears team-up will be the next single to be lifted from her newly released album 'Bangerz'.
The 'We Can't Stop' singer released her long-awaited studio record on Monday (7th October), and has now admitted she hopes her Britney collaboration 'SMS (Bangerz)' will end up as the third single from her album.
"I hope 'SMS (Bangerz)' with Britney," Miley told MTV News, when quizzed on the next release. "That would be awesome."
The 'Wrecking Ball' star was then asked what a music video for the song might be like, if Britney was involved with it, with Miley saying she "can't quit thinking" about the possibilities for a team-up video.
Fans have also been speculating that the song may follow 'Wrecking Ball' as the next 'Bangerz' single, due to a sticker describing the track as such on several physical copies of the record.
Miley Cyrus launched 'Bangerz' at the start of this week, and has already had two big singles from the album in 'We Can't Stop' and 'Wrecking Ball'.