Miley Cyrus On Working With Britney Spears: "She's A Living Legend!"
9 October 2013, 11:22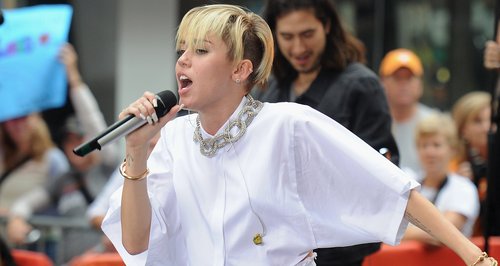 The 'Wrecking Ball' singer says she wanted to make Britney realise how influential she is to her generation.
Miley Cyrus has described Britney Spears as an "icon" and a "living legend", after getting to work with the 'Work Bitch' singer on her new album 'Bangerz'.
The 'We Can't Stop' singer launched her new album 'Bangerz' this week and says she kept trying to convince Britney how important she is to music lovers while the pair worked in the recording study together.
"She's like an icon in that way and so I wanted to bring her back to that," Miley revealed to Hunger TV this month. "I just kept telling her, 'Britney you don't really realise actually how dope [you are]. People tell me I represent their childhood, for me you represent my entire childhood, like you were the soundtrack to me life'.
"I want her to realise how really dope she is and how she's a living legend," the 'Wrecking Ball' star explained. "You know, when you're 30 you don't realise what you are, I want her to take herself out of it and realise, 'I'm Britney Spears!'.
"So I wanted to celebrate in that song," Miley added. "She's got one of those speaking voices that as soon as she opens her mouth you know it's Britney Spears and I wanted it to be about that."
The pair teamed up to record the song 'SMS (Bangerz)' that features on Miley's newly released studio album 'Bangerz'.