Justin Bieber Says "Worst Birthday" Tweet Was Due To "Dummies" Pushing His Fans
4 March 2013, 11:08 | Updated: 4 March 2013, 11:26
The 'Boyfriend' singer also hit out at claims he brought underage Jaden Smith to a nightclub.
Justin Bieber has responded to his "worst birthday" comment on Twitter this week and denied that he tried to bring Will Smith's 14 year-old son Jaden into a club.
The 'As Long As You Love Me' star was celebrating his special day in London but was apparently denied entry into a venue in the capital for trying to bring in underage Jaden.
He has also said the only reason he put the "worst birthday" post on his social networking site was because he was left frustrated by guards pushing his fans.
In a post on his Instagram account, he wrote: "The funny moment when people believe I brought underage people to a club."
He continued: "U think Will is letting his 14 year old in a club, I don't think so.. 2nd I love how the club wanted to give the press another reason to why we didn't stay at their weak ass club so they wouldn't look bad for me walking in and right back out.
Check out a picture of Justin in London this week below: (Picture: Goff)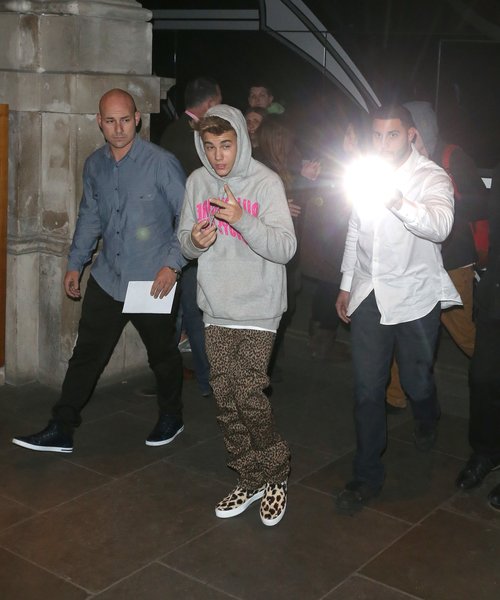 "I said m "worst bday" but that was due to dummies pushing over my fans and being overly aggressive. Btw it wasn't the worst bday cuz all my friends from back home flew in I was just mad in the moment."
The singer has been seen in the capital recently sightseeing and sporting an array of colourful clothes on his trips - including a pair of leopard print trousers.
He said how some of his attire was a "dare" by one of his friends and perhaps his yellow cap was taking it a bit too far.
The teen star will begin a four-night residency at London's O2 Arena tonight (4th March) and head to the likes of Europe and Asia before going back to the US in the summer.