WATCH: Justin Bieber Surprises A Teen Burn Victim Fan With Flowers And $4000
6 February 2015, 12:05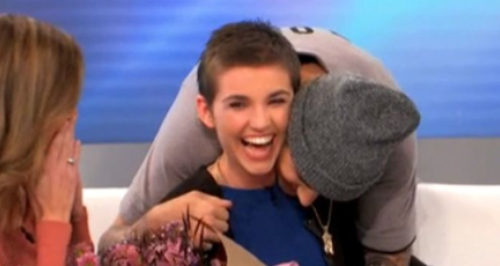 Justin Bieber surprising this young fan is ridiculously adorable – and she gets $4000 to help her family.
It looks like Justin Bieber is putting his bad boy antics firmly behind him in favour of doing good – and his latest act is surprising a teenage burns victim fan on TV.
Just after his appearance on the Ellen DeGeneres show, Justin issued an apology video for his past behaviour, and his latest TV appearance is another step in the right direction.
Justin appeared on TV show The Doctors, where he crept up behind 16-year- old Kilee Brookbank and presented her with a giant bouquet of flowers. Kilee was on the show as she had been injured in November when she was in a house fire.
While the doctors said her recovery is looking good, they added that she was lucky to be alive, and Justin told her, "First of all, I just wanted to say how proud I am of you. The message I want to get out there is that you inspire us so much, I think you inspire everybody in this audience, everybody across the world, you inspire me."
Kilee was also presented with a $4000 gift card for her and her family to redecorate their home after the incident.
If this doesn't have you feeling warm and fuzzy inside, we don't know what will!
You May Also Like…