10 Times Justin Bieber Crashed The Party – And Surprised Fans By Turning Up Uninvited
7 November 2016, 10:30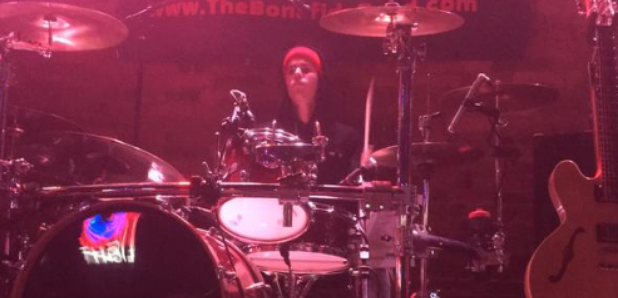 He's crashed proms and put on impromptu performances in bars (including the #CapitalJBB after party!). These are our favourite times when the Biebs has crashed the party!
If there's ever a celeb likely to pop up at a bar and perform it's definitely Justin Bieber – the 'What Do You Mean' star has put on surprise concerts, and even hijacked school sports lessons too… Let's have a look at all the times he's turned up uninvited….
1. When he took over the piano in a Canadian bar and got everyone singing along
Rather than just stopping off for a few drinks while in Toronto, Justin hijacked the piano of the bar he was in and put on a mini concert of five tracks including 'Sorry' - and even got the audience singing along. Now why does he never pop up in our local? #NotFair.
2. When he randomly rocked up to a North London school and asked to join the game of footie!
Biebs loves a good old kick about and so when he drove past Highgate High School with his manager to see Year 11s having a PE lesson - he couldn't help but ask to join in!
Look who turned up today for Senior Football! @highgate1565 met @justinbieber #JustinBieber #HighgateFootball #FieldofDreams pic.twitter.com/Qd7393L57U

— HighgateSpEx (@HighgateSpEx) October 12, 2016
Justin Bieber turned up at my old school just to play football TF pic.twitter.com/HFfv5N85FW

— georgia (@lemonadenormani) October 12, 2016
3. When he hijacked Tyga's performance at 1OAK in Los Angeles to perform his hits and their joint track 'Wait For A Minute'
If there's any star that's likely to put on an unexpected show in a Los Angeles nightclub on a Saturday night, it's Justin Bieber... and he recently jumped on stage with Tyga to perform their joint track as well as 'Sorry' and 'What Do You Mean'. Why does this never happen when we're in a nightclub?!
4. When he rapped a word-perfect rendition of Eminem's 'Lose Yourself' at the Jingle Bell Ball after party
He was the star of the night, but no one was expecting that after performing his INCREDIBLE set at the Jingle Bell Ball, Biebs would also pull out a SERIOUSLY impressive cover of an Eminem classic at the after party too.
5. When he took over as the drummer for a local band in a dive bar in Indiana
Showing off his amazing drumming talent, Justin tried to go undercover when he visited The Venue in Angola, Indiana this week – but it wasn't long before people in the crowd recognized their superstar performer.
Justin was apparently at the bar playing an arcade game but couldn't resist getting on stage with local band Bonafide who were performing on the night.
When the crowd realised exactly who was on drums, chaos ensued – and Heidi Herber of Bonafide told local TV station WANE that the bar had to call in extra security, "It was a social media frenzy. The phones started to come out. Social media is extremely powerful."
"He just looked like a normal kid in the bar, except for the hat and hoodie. We had no idea [he was going to be there], in fact, he was one of the first people in the bar."
6. That time he and Cody Simpson played a surprise duet in front of a restaurant full of people
Justin and Cody delighted diners at The Nice Guy Italian restaurant in Hollywood when they pitched up and randomly started singing their duet 'Home To Mama' and a cover of Tracy Chapman's 'Fast Car' and Edwin McCain's 'I'll Be' during their surprise set. If you're going to have live dinner music, it may as well be this!
7. He also stormed the stage at a jazz night to sing Boyz II Men's 'I'll Make Love To You'
Because the ultimate addition to ANY open mic night is a chart topping global superstar, duh! Justin chose the jazz night at the W Hotel in Hollywood for this impromptu cover - and doesn't he sound UNREAL?
8. When he was recording in a studio next to a high school prom, Biebs couldn't resist stopping by to have a little dance
This high school in California got a little more than they bargained for when JB turned up to their prom uninvited. Needless to say, the kids lost ALL CHILL when Justin popped in for a quick dance while on his way to the studio next door. As you do.
I DANCED WITH @justinbieber AT MY PROM pic.twitter.com/Rhxk4vApBX

— Princess Potato(@ashleeyybrooke) April 26, 2015
9. He also popped up as a surprise addition on Ariana Grande's tour… but he forgot the words to her song!
Well, this is awkward. But look how excited the fans were when the Biebs randomly turned up - AMAZING.
10. When he turned up at The Nice Guy and sang two of his own songs and OneRepublic's 'Apologize'
As well as treating the guests to an impromptu performance, Justin also dedicated a song to a girl in the audience who happened to be celebrating her birthday, bought all her friends tequila shots and went round the restaurant asking people how they were. Uh-mazing.
Where's he going to pop up next? Who knows!