Justin Bieber And Selena Gomez Share New Intimate Picture Sparking Fresh Romance Rumours
27 April 2013, 08:12
The 'Boyfriend' singer is straddled by the Disney star in the new topless picture posted online.
Justin Bieber has posted a new picture of himself cuddling with Selena Gomez to spark fresh reports that the pair are back together.
The Canadian singer shared an intimate image of the pair earlier this month during a meeting in Norway before quickly deleting it, but has kept the new image on his public Instagram page.
To accompany the picture, he wrote: "You've been makin music for too long babe come cuddle" –her."
The pair broke up at the end of 2012 and have been spotted on a handful of get-togethers in the past months.

The picture sees Justin topless on his laptop with Selena wrapping her arms around his torso on a chair.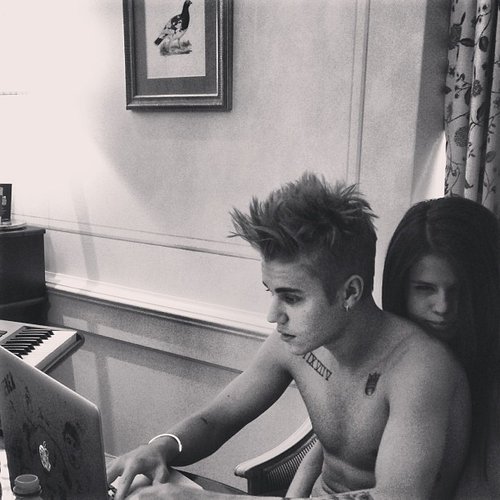 Meanwhile, Justin has constantly been in the headlines over the past weeks with an apparent "drug bust" taking place on his tour bus this week.
The 'As Long As You Love Me' singer hit out at the "rumours" and has also been defended by Will Smith over his behaviour.