Justin Bieber And Selena Gomez Go On A Cinema Date – Are They Back Together At Last?
23 June 2014, 14:34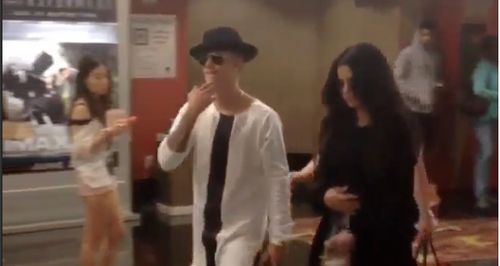 Justin and Selena have been caught on video leaving a cinema together after a romantic meal – is Jelena finally back on?
Justin Bieber and Selena Gomez have been on and off (and suspected to be on) more times than we have had hot dinners – no, really. We even created this handy relationship timeline to help you keep up – but the couple looked very close indeed last weekend.
Justin and Selena were filmed by a fan leaving a cinema in Los Angeles, with Selena putting a protective arm on Justin's back as they walked out with their minders.
The pair also posed for a selfie with 'Stalker Sarah' – an American teen who became internet-famous for her ability to find literally any celeb and make them take a selfie with her.
Justin and Selena first started dating back in 2010, when they were both fresh-faced pop pups – and Justin still had his floppy hairdo but the couple haven't been officially together since 2012.
Jelena were spotted on Friday night leaving Mastro's steak restaurant in Beverly Hills before hitting the Westfield Century City mall to see new comedy Think Like A Man.
The pair were also spotted on Wednesday at a bible study class together – romantic- where a source said they looked 'smitten' together. The source said, "They were very lovey dovey and cute. They came and left together with a few friends. They sat next to each other and listened to the sermon and were smitten with each other."
All this comes just a week after they were spotted partying together at Alfredo Flores' birthday party – if they ARE just friends, they certainly have been spending a lot of time together lately!