Justin Bieber Told To Put Pet Monkey Up For Adoption By Animal Shelter
9 April 2013, 13:23
The 'Boyfriend' star has been urged by activists to let the monkey be with other animals.
Justin Bieber has been urged by animal rights activists to put his pet monkey up for adoption.
The 'As Long As You Love Me' singer's pet was confiscated when he arrived in Germany for his Munich 'Believe' show by customs officers earlier this month.
The star has since been apparently sorting out paperwork to retrieve the animal as it remains in quarantine, and it's claimed too long in isolation could result in "mental damage" for the monkey.
Animal shelter boss Karl Heinz Joachim said: "It needs to be with other monkeys at this crucial age. He should do the decent thing and let it be adopted."
The pet was handed to Justin for his 19th birthday and the star has been speaking on Twitter about how much he is missing his monkey.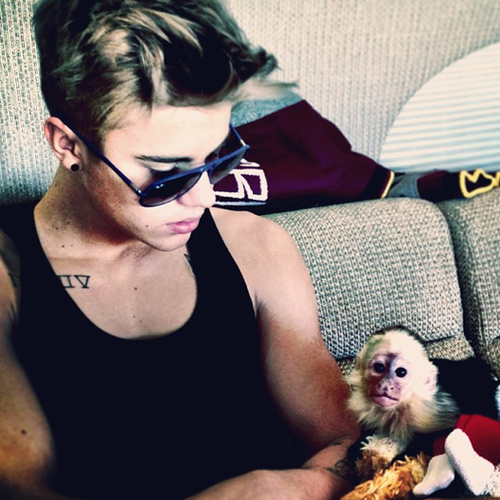 Meanwhile, the Canadian star has been busy working on new music on the road and recently received high words of praise from Ed Sheeran.
The 'Lego House' man said he loved the new direction he was going with the latest batch of tunes he heard.