Handbags At Dawn! Justin Bieber And Orlando Bloom Turned Up The Heat In Ibiza!
31 July 2014, 09:22 | Updated: 31 July 2014, 10:00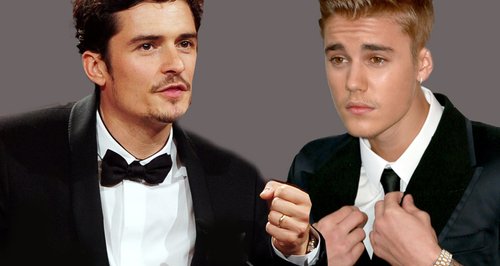 Now, now boys! We're sure you can sort it all out over a handshake and cup of tea!
Well, if there is one thing we weren't expecting to hear, it's that Justin Bieber and actual Orlando Bloom had a little scuffle in Ibiza!
You're probably thinking 'huh?', 'WTH?!', 'erm, random', but it seems the pair had a little pushing and shoving match outside a restaurant on the White Isle on Tuesday night.
Orlando reportedly took a swing at Biebs, who ducked out of the way before the pair had a little shoving match before they were pulled apart.
But why would the normally docile Mr Bloom have beef with the increasingly fine Justin?
According to reports in the USA, the pair have never seen eye to eye over Orly's ex-wife and baby-mama Miranda Kerr after Justin allegedly flirted with her in a Victoria's Secret show back in 2012.
An eyewitness told the MailOnline, "Justin was being cordial, and everything was fine. But then Orlando was annoyed when he saw it was Justin and instigated by taking a swing at Justin. Justin ducked, and Orlando's punch missed'.People intervened, some minor pushing, then they were separated. Justin stayed for a while after."
Justin reportedly said something about Miranda last night that caused Orlando to start the fracas.
Justin later posted a photo of Orlando Bloom crying on his Instagram account as a further dig at the actor, who has yet to respond. Miranda Kerr, however, doesn't seem too bothered by the whole thing and has instead been posting topless photos of herself on Instagram.
Now, now boys! Let's all shake hands and be pals again – no more pushing and shoving!