Justin Bieber Debuts New Shaved Hairstyle During 'Believe' Tour In Dortmund
9 April 2013, 11:01
The 'Boyfriend' star echoes his former longer locks with the new do.
Justin Bieber has debuted his new hairstyle as his 'Believe' world tour hit Dortmund this past week.
The style echoes his former longer haircut, which he became famous for, albeit with shorter sides.
The Canadian star can be seen posing with the new do in a variety of meet and greet photos with fans backstage on the tour.
Many of the star's fans have been taking to Twitter to offer their opinions on the look – with some comparing it to the shaved side style of Rihanna.
One fan wrote: "Justin Bieber unveils new haircut that resembles Rihanna and Miley Cyrus trim."
The singer's tour has hit the likes of Munich, Berlin and Cologne during his stay in Germany.
Check out Justin Bieber's new haircut below: (Picture: Twitter/BieberFever.com)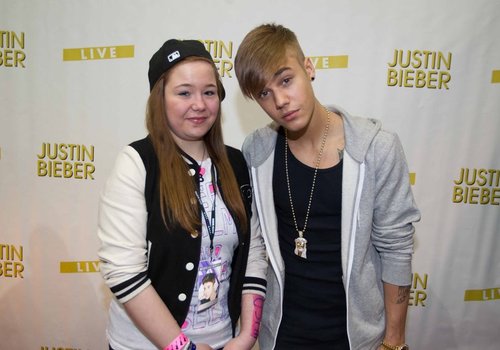 He also started his trip in the country on bad terms after his new pet monkey was confiscated at the German border.
Meanwhile, it has been rumoured that the singer is plotting a new 3D movie for release at the end of the year.
Ex-girlfriend Selena Gomez was also reported to be upset that the film would feature scenes of the former couple and sent the teen an angry series of text messages voicing her upset.