Is Justin Bieber's Mum Trying To Get Jelena Back Together With These Cryptic Tweets?
28 March 2018, 16:42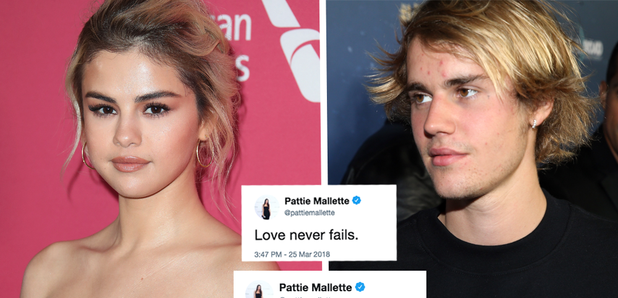 Fans are refusing to give up on Jelena's reunion (yet again) and who knew the person leading this movement would be none other than Justin's mum! Her cryptic love tweets has everyone wondering what will happen next...
Jelena successfully shocked everyone when they rekindled their romance a few months ago, but within the actual blink of an eye and a holiday in Jamaica later... they were off again. People don't know what to make of all this madness, including the most important woman in Justin's life, his mum.
Justin is known for having an extremely close relationship with his mum, Pattie Mallette, and ever since his and Selena's mini-break turned into a permanent one, he's probably counting on her to support his decision to separate.
But it appears his mum is still very much rooting for the couple to work things out after posting these cryptic tweets about love conquering all, including one saying 'It ain't over til it's good.'
Love never fails.

— Pattie Mallette (@pattiemallette) March 26, 2018
It ain't over til it's good.

— Pattie Mallette (@pattiemallette) March 26, 2018
Love covers.

— Pattie Mallette (@pattiemallette) March 28, 2018
The irony is not lost that one of Selena's hits with Kygo is titled 'It Aint Me'.
Naturally, Jelena fans were quick to point out the hidden message behind the tweets and flooded Pattie's page in support of her rooting for them.
my jelena heart

— C A M I LL E (@Camilliriaas) March 27, 2018
Justin & Selena, true love ALWAYS wins

— Cheryl Bruce (@CherylB23875833) March 27, 2018
JELENA IS ALWAYS ALIVE

— Sel (@selenasenergy_) March 26, 2018
I bet this hint was for Jelena, no doubt!

— julia (@fcsbizzle) March 26, 2018
This gives us hope that they can't be over for good if even his mum is indirect tweeting his ex?! We would also love to know how the conversation went down between the two when Justin saw his mum's tweets..
Download Our App To Stay Updated On All The Latest Jelena Drama
Watch The Biebs introduce his mate Craig David on stage