A Pair Of Justin Bieber 'Lookalikes' Auditioned For The X Factor & People Can Not Deal
11 September 2017, 10:56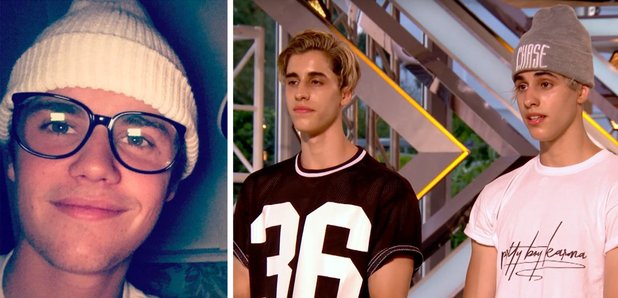 We use the term 'lookalike' loosely…
We thought we were seeing things when the X Factor hit our screens last weekend – there appeared to be not one but TWO Justin Biebers auditioning… kind of.
Pretty Boy Karma appeared in front of the judges rocking copycat versions of Justin's outfits and even singing Bieber's 'Boyfriend', but aside from a passing resemblance to the fitlord that is the Biebs that's kind of where the likeness ended.
As well as not being very good singers or rappers, the boys also didn't have Justin's dance ability – but it was enough to send the internet into a frenzy at what they had just seen:
Pretty boy karma is a mix of Justin Bieber and Ed Milliband

— Kairos (@LouisaarMcClure) September 10, 2017
Catching up on last nights X factor and the Justin Bieber wannabes are absolutely TRAGIC!

— CayCay (@Caaayyyy) September 10, 2017
Just watched the pretty boy karma audition on x factor and damn...
Justin sweety I'm so sorry

— Andrah (@A_Bieber_Babe21) September 10, 2017
These Bieber doubles on x factor are so cringy....... they actually have cute voices but dude stop imitating him

— sara (@emmascaptn) September 9, 2017
uk mutuals did you see those flops claim they look like Justin bieber and 'sing' boyfriend on X factor? I-

— rose (@babypacito) September 9, 2017
Catching up on X Factor and omg at the Justin bieber wannabes

— Barbara (@Barbsxoxox) September 9, 2017
EVERYONE BELIEBER HATES THE GUYS WHO TRIED TO BE JUSTIN BIEBER ON THE X FACTOR RIGHT NOW There will only be 1 bieber try someone else

— paris (@ParisCxx) September 9, 2017
what's up w these bieber wannabes on X factor

— river (@idkriver) September 9, 2017
When I saw them "Justin bieber twins" on X factor I stood there for about 5 mins trying to work out, they thought they were good at singing.

— Natalie cook♡ (@Nataliecookxoxo) September 9, 2017
Those twins that came on x factor "I look a bit like Justin bieber" bitch tell me where??

— (@xstrangeIove) September 9, 2017
Then twins on x factor look the double off Justin bieber

— Caoimhe Duffy (@CaoimheDuffy10) September 9, 2017
Pretty Boy Karma made me cringe so bad lmao pic.twitter.com/98eW157Ph6

— jeneffer (@vcrislands) September 11, 2017
To the boys from pretty boy karma, where were your parents when you decided to do this?

— Emma Miller (@EmmaMiller21) September 10, 2017
Pretty boy karma has to be up there with one of the cringiest X factor auditions

— Kenan Krkić (@Kenan_Krkic) September 10, 2017
Pretty boy karma are like the knockoff Poundland version of Justin Bieber

— Lauren (@LaurenFinnemore) September 10, 2017
However, their not-so-good audition wasn't the only thing that went wrong – Simon Cowell accidentally told them they had four 'yeses' instead of 'nos' – and that tiny look of hope on one of the brothers' face was kinda heartbreaking.