You Will STILL Be Scratching Your Head Over What Bieber Stacked It Over!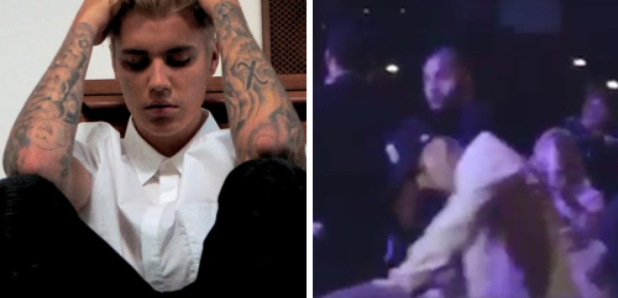 While checking out J. Lo's first night in Las Vegas, Bieber entered the venue with huge applause... Until he tripped over something odd. HOW DID THAT EVEN GET THERE?!
Jennifer Lopez kicked off her Vegas residency in true style. Not only did she rock the entire venue with some of her absolute classics - just try to admit you don't know all of the words to at least one of her songs. But she also dragged along a couple of her A-lister friends.
Including someone you might know... Justin Bieber. In true Biebs style, he entered the arena with HUGE roars of applause, his name being chanted and yells. Until the only yell was his?
As he was making his way through the crowd, he tripped over something.
Video of Justin Bieber at Jennifer Lopez's concert in Las Vegas, Nevada today. (January 20) pic.twitter.com/bjPO0EdWXG

— JustinBieberCrew.com (@JBCrewdotcom) January 21, 2016
A SUITCASE?! Who brings a suitcase to a J. Lo concert?! Who does that? But fair play to Bieber - he hands it back with more concern than we've seen at most airports.
And this little tumble didn't get the 'Sorry' singer down, because he still managed to mime to Jen's absolute anthems all night long. If we could be in one video, it would definitely be this.
yael: Date night for @jlo's opening night was super romantic. @scooterbraun @justinbieber pic.twitter.com/0aHFphxbQA

— JustinBieberCrew.com (@JBCrewdotcom) January 21, 2016
How could his night get any better? Oh. He pulled too...
@RebelWilson @KellyOsbourne and thanks for the note pic.twitter.com/EeJxCFXzLG

— Justin Bieber (@justinbieber) January 21, 2016
You May Also Like...