Justin Bieber Fined £300,000 By Council For London O2 Arena Late Showing?
6 March 2013, 10:36
The 'Boyfriend' singer has reportedly incurred a huge penalty for arriving on stage two hours late this week.
Justin Bieber has reportedly been fined £300,000 because his gig at London's O2 Arena this week overran due to his late on stage appearance.
The 'As Long As You Love Me' singer hit the stage at 10.30pm on Monday night (4th March) causing the show to finish an hour late at 11.30pm.
According to Digital Spy, the Greenwich Council have issued the fine for the overrunning of their curfew.
There is a noise ban in the area, which comes into place at 11pm - with a £10,000 a minute fine set thereafter.
Fans and parents of children who attended the show reacted angrily at the late gig – with many having to leave early to get public transport home.
Check out a picture of Justin on stage at London's O2 Arena below: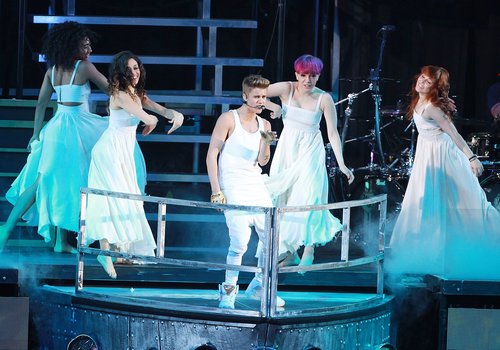 The Canadian also took to his Twitter account yesterday to issue an apology and explained "technical issues" were the cause of the delay but admitted there was "no excuse" for the incident.
Last night's (5th March) gig at the same venue avoided a repeat performance with Justin taking to the stage two minutes early and wrapping up the gig at 10.30pm.