Justin Bieber DM-d A Gym Asking Who Their Hot Employee Was & She Spectacularly Curved Him
14 August 2017, 10:59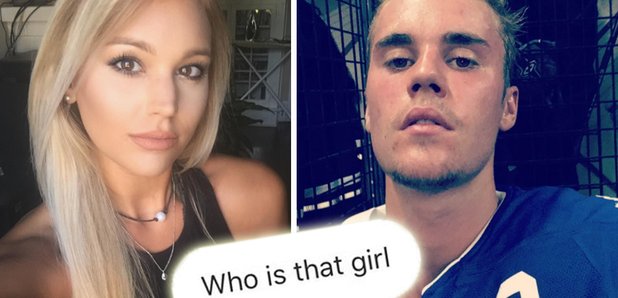 Not a lot of people would say no to the Biebs!
Justin Bieber sliding into your work's DMs to ask who you are is pretty much the stuff dreams are made of – but that's exactly what happened to a gym employee from Georgia in the USA… and she spectacularly curved the Biebs!
Jessica Gober went viral after she posted a screenshot of the DM on Twitter – and revealed that the gym account only had 70 followers on Instagram at the time Justin found her video.

She told Buzzfeed, "We got a notification that said Justin Bieber sent you a message and after opening the message we realized it was really him. We were like how in the world did he see this random post. We only had 70 followers and had posted 5 times previous to this.
"My boyfriend and family basically think the same thing I do, that it is very random and shocking. The fact that it has gone viral is not anything we would have ever expected! Everyone was definitely surprised that a celebrity reached out asking who I was."
Jessica obviously got an overwhelming amount of responses to her tweet, with most people shocked that she wasn't really interested in Justin's advances – which led to her posting a series of photos to show how happy she is with her boyfriend.
I've got everything I need right here pic.twitter.com/mET9XXkM8d

— Jessi (@jessicagober) August 10, 2017
She explained, "I didn't post the pictures of my boyfriend and because I thought that Justin Bieber wanted to 'get with me', I posted them in response to everyone commenting that I 'ruined my chances with Justin by tweeting the screenshots'. Either way I didn't want a 'chance' because I am perfectly happy with my boyfriend."
It's not the first time Justin's reached out to find a girl on Instagram – he's posted a picture of a girl in the past asking his followers to find her… and of course they duly obliged.
It's fair to say most people were pretty jealous of Jess, who wouldn't like JB to slide in their DMs?!:
IS THIS A JOKE OH MY GOD I AM SO JEALOUS HOLY MOLY JESSI!!!!!!

— meg kiep (@MeghanKiep01) August 10, 2017
Yassss girl pic.twitter.com/HsKtPb94tE

— Justin Drew Bieber (@arilavbel) August 10, 2017
IT GOES DOWN IN THE DM'S pic.twitter.com/2xswibg7lO

— Selena Fetish (@SelenaGotMeLike) August 9, 2017
Ur lucky:(im jealous why does this Never Happen to me? pic.twitter.com/PoKhcTMz7E

— jdb (@nikidbieber94) August 10, 2017
Question is, is you gonna leave your bf if he hits you up pic.twitter.com/dg7axmAtIV

— Jess (@VXGUEMCCANN) August 9, 2017
LUCKY YOU OH MY GOD

— alina (@tasedrew) August 9, 2017
Jessica thinks Justin's advances were all innocent however, explaining, "All of the articles that have been posted have been based only on assumptions. We didn't think Justin Bieber was being creepy, the gym did respond to him on Instagram. I don't think he had any inappropriate intentions by simply asking who I was."
Yep, we're hella jealous. You can slide into our DMs anytime you like, JB!