This Guy Got A Shock When He Accidentally Received Justin Bieber's 'Despacito' GRAMMY In The Post
1 February 2018, 15:51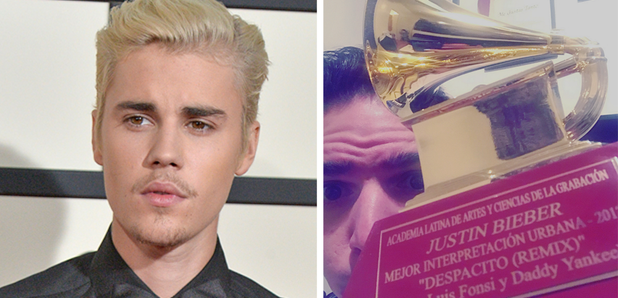 The 23 year old still hasn't received his Latin GRAMMY for the Luis Fonsi & Daddy Yankee collab.
There aren't many people in the world that don't know who Justin Bieber is. The Canadian star has 96.5 million followers on Instagram and is one of the most talked about celebs on the planet.
However, the Latin GRAMMYs appear to have forgotten exactly who the 'Sorry' star is after they posted his award for 'Despacito' to a completely different person...named Carlos Escalona Cruz (not even close to Justin lol).
> WATCH: Justin Bieber Was Asked Whether He Would Propose To Selena & His Reaction Says It All
It turns out that Carlos isn't just a random guy who received JB's prize in the post, but he's actually a Latin GRAMMY Award winner himself. Carlos won an award for his work as a producer on Marc Anthony's album and it appears his address was mixed up with Justins.
Carlos shared a snap of Justin's wrongly delivered award and told TMZ that he was shocked to receive the wrong gong, but contacted the GRAMMYs straight away and they advised him to send it back so it could be reunited with its rightful owner.
So does this mean that Justin has received Carlos' GRAMMY Award by mistake too? Carlos certainly thought so and he posted a few messages to Justin to ask for it back! Swipe through the Insta snap above to see his hilarious requests.
Justin hasn't spoken out about the mix up just yet, but we're sure the awards will find their right homes soon enough.
> Download Our Fancy New App For All The Latest Justin News!
Whilst you're here, check out what happened when Justin filmed his friend's vlog for the day...