"He's Like A Big Brother": Isn't Cody Simpson And Justin Bieber's Bromance The Cutest?!
31 July 2014, 12:52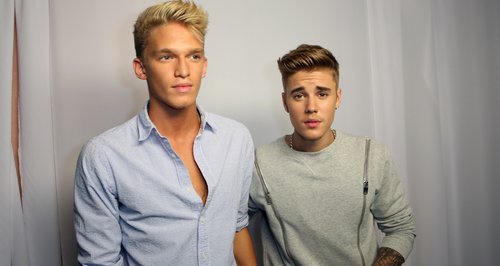 Cody Simpson has spoken out to defend 'brother' Justin Bieber after THAT Orlando Bloom incident. Aww!
We LOVE a good bromance, and it looks like there is an AMAZING new one happening – Cody Simpson and Justin Bieber!
The boys have been in the studio together recording in recent weeks (and Cody dropped some SERIOUS hints that there may even be a joint album in the works) and now the Aussie heartthrob has stepped in to defend his pal.
Justin Bieber was involved in a bit of a scuffle with Orlando Bloom at a restaurant in Ibiza earlier in the week, but Cody's definitely got his BFFs back.
Speaking on The Morning Show in Australia, Cody said, "Obviously we're all young and he gets himself into some stuff sometimes."
While he does get a lot of bad press for the 'stuff' he gets accused of, Justin actually has a caring and VERY charitable side that people often overlook.
Cody continued, "He's a person I'd go to for everything. He's like a big brother." Aww, you guys!
And Justin Bieber's amazing charity work – which earned him a Young Hollywood Award, presented by Cody – hasn't gone unnoticed either.
Cody added, "He has the world in his hands as he does a lot of good as well.I've got all good things to say." Sounds like he's fangirling a bit! (And we DEFINITELY don't blame him!)
And it looks like the pair will get more time to do some man-bonding, as Cody revealed they have been working hard in the studio.
He said, "It started as one song… we ended up writing 10 or 11 songs in 7 days. We're working on a project at the moment." Hands up who's excited?!
You may also like…