Have Justin Bieber's Topless Selfies Landed Him A Calvin Klein Deal? Yum!
23 July 2014, 10:28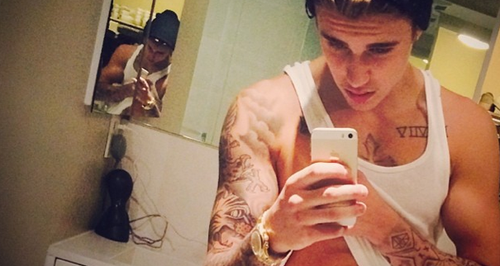 Looks like Justin's gratuitous semi-nudity is paying off – he could be on billboards pretty soon!
We're definitely not complaining about the amount of topless pictures of Justin Bieber in the world so far, but #Beliebers are in for a treat – JB is soon to be an underwear model! Yum!
Yup, it seems that Justin's love of stripping off for selfies may have landed him a rather jammy underwear deal with Calvin Klein!
A source told the MailOnline, "Justin has shot for Calvin Klein, we hope the results will be released later this year."
And Justin's love of the pants brand has definitely come in handy – you can almost always catch a glimpse of his Calvins peeking over his waistband – not that we imagine he needs the free pairs he will no doubt get!
While the actual amount Justin will earn or his campaign is not yet known, Kate Moss' first CK ontract was worth $1.2million, before rising to $4million. That's a lot of cash for wearing some nice pants!
More photos of Bieber in just his underwear? YES PLEASE!
You may also like…