Big Sean Denies Threatening Justin Bieber On Twitter For Getting Close To Ariana Grande
10 April 2015, 11:10
After Justin got handsy with Ari on stage, a tweet claimed to be from Big Sean appeared online – but the rapper reckons it's a fake!
Uh-oh – talk about awkward! Justin Bieber's been guest performing on Ariana Grande's tour and it doesn't look like her boyfriend Big Sean is very happy about it…
Justin's been getting used to being back on the stage by popping up on some of Ari's Honeymoon tour dates – and getting a tad gropey with Ariana on stage… but a tweet that appeared recently suggests Big Sean is not that pleased with his antics.
Twitter exploded when a tweet appearing to be from Big Sean was shared amongst fans which read, "This kid is about to learn not to touch my girl like that. Beliebe that."
Big Sean gon' take him outside for this one pic.twitter.com/rr8NQf0ZAV

— (@trxvp) April 9, 2015
The tweet was apparently quickly deleted but not before it was shared amongst eagle eyed fans – though a representative for Sean was quick to deny to TMZ that the tweet was really from him.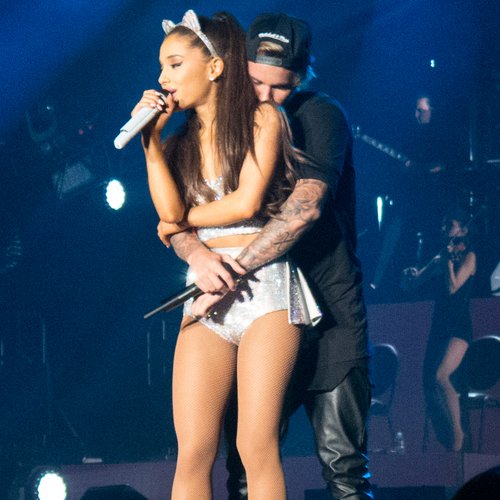 Another deleted tweet from Big Sean was said to just contain a single word, "wow", which was also said to be about Justin's hands-on antics on stage.
Justin, however, seemed oblivious to all the drama as he tweeted after the show, "Love the stage. Thanks for having me @ArianaGrande and thanks LA. Gotta tour again soon :)"