WATCH: Justin Bieber's Surprise Performance With Ariana Grande… He Forgets The Words!
30 March 2015, 10:43
Ariana Grande & Justin Bieber - Love Me Harder (Live in Miami) (Full)
03:56
JB turned up as a surprise guest on Ariana's 'Honeymoon' Tour – but he fluffed the lyrics to 'Love Me Harder' live on stage! Awk.
There's nothing more awkward than forgetting your lyrics if you're taking part in karaoke with your mates, let alone when you're in front of thousands of fans at another singer's tour!
When Justin Bieber turned up as a surprise guest on Ariana Grande's 'Honeymoon' tour to duet with her on 'Love Me Harder' he managed to forget the lyrics – awk!
It may have been a little bit of stage fright after Justin has had a little time away from the limelight in recent months, but the delighted fans in the audience didn't seem to notice that he'd forgotten the lyrics.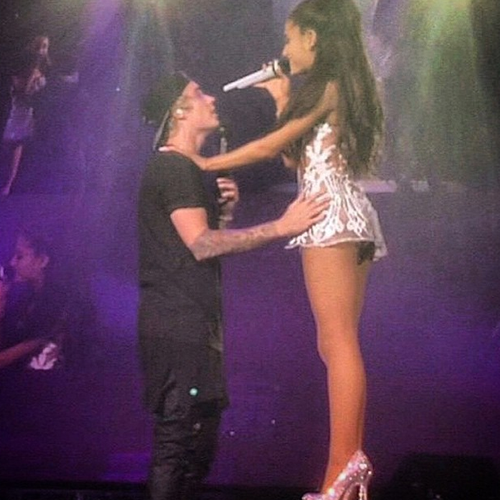 Justin was the surprise performer at Ariana's show at the American Airlines Arena in Miami on Saturday night and apologised for forgetting the lyrics on stage and on Instagram later that night.
Justin posted a photo of him with Ari captioned, "Had fun with u Ariana, even tho I forgot all the words haha."
He said on stage, "So I feel a little bad, I forgot the words, Ariana. I've been trying to memorise it backstage for like an hour. I feel so bad, I'm so sorry. Can you guys forgive me for forgetting the words? I feel terrible."
As well as Ariana's hit, the pair also sang Justin's tracks 'All That Matters' and 'As Long As You Love Me' to the delight of the fans – you pay for one huge star and end up getting two!
Justin's clearly been missing the stage of late as he tweeted, "Thank you @arianagrande and thank you Miami. I missed the stage. See u soon ;)".
As well as hanging out with Ariana, Justin also found time for a pool party with the Kardashians where he posted a photo with Kourtney Kardashian and Scott Disick's son Mason on his back.
We won't have too long to wait until we can see Justin live though – Biebs will be taking the stage as Friday's headliner at Fusion Festival on 28th August in Crofton Park in Birmingham. And we reckon he will have memorised the lyrics by then too!
You May Also Like: