An Acoustic Album From Justin Bieber?! Yep, That MAY Actually Be Happening!
11 August 2014, 09:52 | Updated: 11 August 2014, 09:59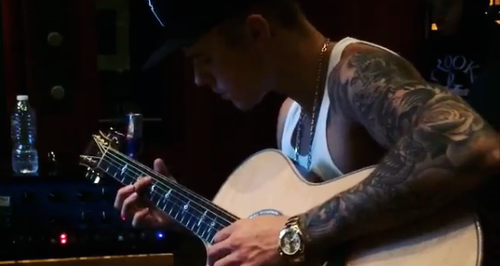 Justin Bieber has been posting a LOT of hints that we may be hearing a new sound from him soon…
Anyone that has seen Justin Bieber's first movie, Never Say Never, knows the boy is pretty talented around a musical instrument – and he's dropping some serious hints about an acoustic album to come!
Justin has been posting a series of teasers on his Instagram account over the weekend, including a snap of some acoustic guitars with the caption 'Acoustic album?'.
Justin also posted an Instagram video of him strumming away, playing 'Dust In The Wind' and a guitar riff to his song, 'Recovery'– and he definitely knows his way around a guitar!
The Biebs has switched up his musical stylings a LOT since the days of 'Baby' – and his hairdo too! – so another new direction could definitely be on the cards.
Justin also recently posted snippets of 11 possible new tracks from an upcoming album, so we will DEFINITELY be getting a new offering from him pretty soon.
It also looks like the acoustic album might be a collaboration with Cody Simpson, who has previously said that he is working on a "real cool acoustic project' with Justin, and that it may be "a little more than a song".
Two hot pop stars on one acoustic album? We LOVE the sound of that!