How Did Justin Bieber Celebrate His 21st Birthday? Topless & Surrounded By Women, Duh!
2 March 2015, 10:26 | Updated: 2 March 2015, 10:37
Well, he was never gonna have a quiet one, was he? Looks like Biebs celebrated in quite some style!
He's finally come of age – Justin Bieber has turned 21! Yep, he's finally the legal age to drink in the USA, and Biebs made the most of it with a giant bottle of champagne.
Justin celebrated his big 2-1 with all of his pals – and had two of his rumoured girlfriends draped all over him while he danced around topless – nice!
Hailey Baldwin, the lady he's currently rumoured to be seeing posted a photo of herself hugging Justin from behind, while his rumoured ex, Yovanna Ventura, cocked her leg up on him. Not awk at all…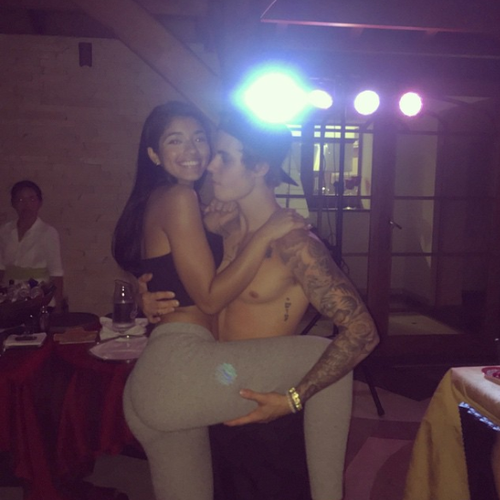 Justin later tweeted that he "really likes" someone - wonder who he means between Hailey and Yovanna… (Either that, or he REALLY likes Carly Rae Jepson's new song, which has these exact lyrics).
I really really really really really really like you

— Justin Bieber (@justinbieber) March 2, 2015
When he managed to untangle his semi-naked body from all of the women wrapping themselves around him, Justin gave all his guests sparklers and danced around to 50 Cent's 'In Da Club' with a massive bottle of champers.
Of course, Justin didn't have his birthday shindig in his own back yard, preferring to fly everyone off to a Caribbean island near Grenada – well, if you have the cash, it would be rude not to!
Thanks for all the birthday love. Grateful for everything. Let's be better this year. Thanks

— Justin Bieber (@justinbieber) March 2, 2015
Just make sure you send us an invite for your 22nd, Justin!
You May Also Like: