Ed Sheeran Drops Pretty Subtle Hints That He'd Be Game For A Collab With Sam Smith!
2 March 2017, 07:46 | Updated: 2 March 2017, 11:39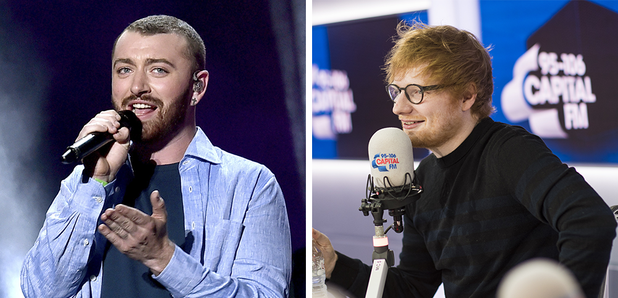 Now THIS is something we can get on board with.
Ed Sheeran is officially the bearer of good news. He can send us into a giddy frenzy by simply posting a blue square on Twitter, or - more recently - he can get us just a tad/INCREDIBLY excited for a collaboration between himself and Sam Smith.
The 'Shape Of You' singer recently stopped by the Capital Evening Show to chat to Roman Kemp, and they got talking about both of them ending their hiatuses with a collaboration. Er... YES. PLEASE.
As Ed said, after his "well-deserved hiatus", he seemed excited to do a collaboration with the 'Stay With Me' Oscar-winner, having already performed together in the past.
"I will definitely never rule it out. I think he's amazing. He's a fantastic bloke" said Ed.
He then left with an air of mystery when he dropped the news that we won't be expecting Sam's next move. Hm...?
While he was here with Roman, the pair got up to the usual; they grabbed a coffee, they had a chat, and - oh yeah - Ed Sheeran tattooed him.
Ro was always in awe of Ed Sheeran's ink, so Ed took it upon himself to brand the host with - wait for it - "Ed Woz Ere 2k7". We won't tell him it's the wrong year if you won't.
Ed's third studio album '÷' is released on Friday 3rd March 2017 and you can grab your copy on Apple Music
here
.
You May Also Like...