Fans Think Ed Sheeran Might Duet With Harry Styles At The BRITs & Could You Just IMAGINE
22 February 2017, 15:46 | Updated: 22 February 2017, 15:53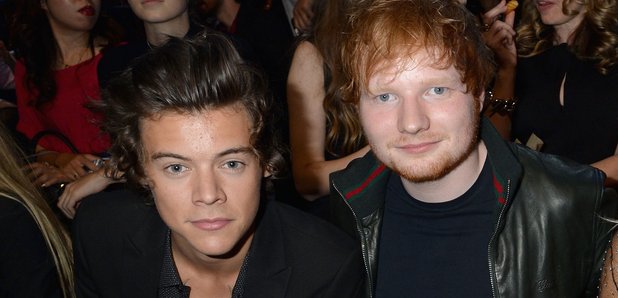 OUR HEARTS.
We know the night of the BRIT Awards is always full of surprises, but this one might be our favourite rumour yet – fans think Ed Sheeran may bring out Harry Styles during his performance at tonight's awards!
We know they're great mates and they even have matching tattoos, and Ed also recently revealed that he's heard Harry's solo material… so could tonight be the night he makes his big solo debut? One can only hope!
Fans have been flooding Twitter with speculation over whether Harry may come out as Ed's special guest during his performance:
I wish harry styles will perform tonight with ed @Harry_Styles @edsheeran pic.twitter.com/CrT3LUqAnN

— H.(@lila53966188) February 22, 2017
Soooo what if Ed is performing his new song with harry?

— . (@WrongForZayn) February 22, 2017
HOW ARE Y'ALL STILL BREATHING PROPERLY WHEN ED SHEERAN IS PERFORMING WITH HARRY STYLES TONIGJT

— lïv (@fairllylocaI) February 22, 2017
Guys I think harry might be performing with Ed tonight cause the radio said Ed said there's something big happening during the performance..

— Izzy Shelton (@Izzy512245) February 22, 2017
rumors floating about that Harry Styles is going to perform with Ed Sheeran at the Brits ... I will pass away

— Alex White (@alllaboutalexx) February 22, 2017
We know he's been hard at work on his debut solo album and it's basically finished as Ed's heard it – now we're just waiting on when WE can finally hear it!
People have also speculated that Harry might follow in Adele's footsteps and debut one of his tracks in an advert just like the 'Hello' star did during the X Factor.
Either way, hurry up Hazza – we need those songs, like, now!
You can keep up with all the BRITs gossip as it happens on Capital (and you can listen live by downloading the app right here). We'll also ave all the backstage action on Snapchat (CapitalOfficial) and all the news and winners as they happen on CapitalFM.com too!