Demi Lovato Hits Out At Fan Who Says She's 'Unfair' For Firing Backing Dancer After Overdose
16 November 2018, 12:29 | Updated: 16 November 2018, 14:50
Demi Lovato's clapped back at a fan who called her 'unfair' for firing her backing dancer Dani Vitale and reveals her sassy comments were about her personal trainer who did TV interviews about her after her overdose.
Demi Lovato has hit out at a fan page on social media for the first time since her hospitalisation from a drug overdose who claimed it was 'unfair' of Demi to fire her backing dancer and close friend Dani Vitale, saying they have 'no idea what they're talking about'.
Demi Lovato Leaning On Ex-Boyfriend Wilmer Valderrama Since Completing Rehab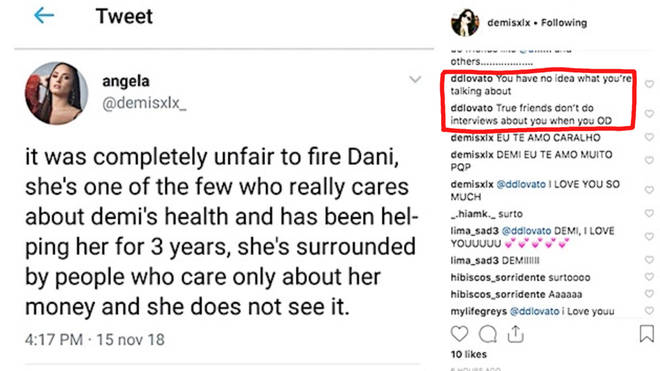 After staying pretty much silent on social media these past few months, Demi couldn't help dropping by in the comments of fan account '@demisxlx_' who was bashing the star's decision to 'fire Dani', someone the fan claims is 'one of the few people who really cares about Demi's health and has been a helper for 3 years' to clear a few things up.
Demi hit back saying: "You have no idea what you're talking about...True friends don't do interviews about you when you OD".
She has since commented she wasn't in fact talking about Dani Vitale, but her martial arts coach, Danielle Martin, who did a TV interview with 'Inside Edition' where she spoke of her 'disappointment' about Demi's overdose, who was the true cause of Demi's clap back.

The fan continued on to ask Demi to explain her decision to fire members of her team, calling her 'contradictory' and urging her to see the 'good' her friends have done to her, none of which the 'Sorry Not Sorry' star responded to.
After Demi's hospitalisation in the summer, her backing dancer, who many initially blamed for being a 'bad influence' on her, released statement on her Twitter to say she wasn't with the singer at the time of her OD.
>Download Our Brand New App For All The Latest Demi Lovato News