Bruno Mars - 'Treasure' (Live At The Summertime Ball 2017)
10 June 2017, 18:17
We know you'll be treasuring Bruno's performance for a long time to come!
Hit after hit after hit – Bruno Mars opening the Summertime Ball was never going to be a small affair, but the legendary hitmaker brought all of his best loved tracks to the #CapitalSTB!
Mixing classics with hot new hits, there was something to get everyone dancing in Bruno's set, and we saw 80,000 of you singing along to 'Treasure' at Wembley Stadium.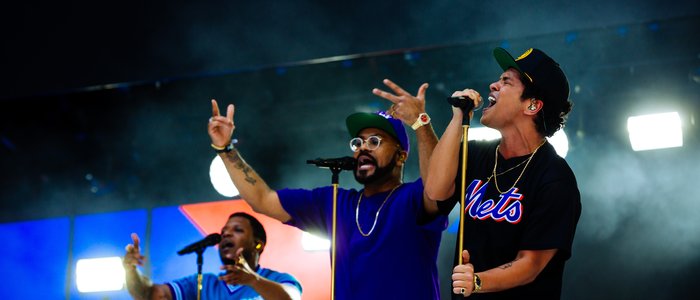 An all-round performer, Bruno kept the crowd enthralled from beginning to end, and put on a mini-concert of his own with his massive eight-song set.
He might be a newbie to the Ball, but with years of experience playing sell-out venues, Wembley Stadium seemed like a walk (or dance!) in the park for Mr Mars!
As well as Bruno's amazing set, Capitalfm.com is the only place to go for all the performances from the Ball – so make sure you keep it Capital, and let us know what you think over on Twitter @capitalofficial.
Bruno Mars – Summertime Ball 2017 Setlist
24K Magic
Treasure
That's What I Like
Runaway
Locked Out Of Heaven
Uptown Funk
Bruno Mars 'Treasure' Lyrics
Give me all, give me all, give me all your attention baby
I got to tell you a little something about yourself
You're wonderful, flawless, oh you're a sexy lady
But you walk around here like you wanna be someone else
I know that you don't know it, but you're fine, so fine
Oh girl I'm gonna show you when you're mine, oh mine
Treasure, that is what you are
Honey you're my golden star
You know you can make my wish come true
If you let me treasure you
If you let me treasure you
Pretty girl, pretty girl, pretty girl you should be smiling
A girl like you should never live so blue
You're everything I see in my dreams
I wouldn't say that to you if it wasn't true
I know that you don't know it, but you're fine, so fine
Oh girl I'm gonna show you when you're mine, oh mine
Treasure, that is what you are
Honey you're my golden star
You know you can make my wish come true
If you let me treasure you
If you let me treasure you
You are my treasure, you are my treasure
You are my treasure, yeah, you you you, you are
You are my treasure, you are my treasure
You are my treasure, yeah, you you you, you are
Treasure, that is what you are
Honey you're my golden star
You know you can make my wish come true
If you let me treasure you
If you let me treasure you