Bruno Mars' Super Bowl Halftime Show Performance Most Watched Of All Time
4 February 2014, 07:52 | Updated: 27 March 2017, 16:31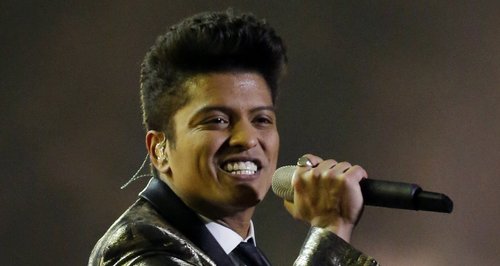 The 'Locked Out Of Heaven' star beat the previous best set by Madonna with an astounding 115.3 million viewers.
Bruno Mars' performance at the halftime show of the NFL Super Bowl this past Sunday (2nd February) was named as the most watched of all time.
Madonna's performance two years ago was the pervious best after notching figures of 114 million, but was trumped by Bruno at the weekend with a massive 115.3 million tuning in.
Fox announced the figures yesterday, citing the Nielsen data, and the number comes in almost five million more than Beyonce's show last year which bagged 110.8 million.
Bruno was joined on stage by the Red Hot Chili Peppers for a rendition of 'Give It Away' and he opened his entire set from behind the drum-kit.
The US star performed hits such as 'Treasure', 'Locked Out Of Heaven' and 'Just The Way You Are'.
Head over to our Facebook page where fans are currently debating which star should take to the stage at the NFL Super Bowl 2015.
[[ This video has been removed ]]