Bruno Mars Slams Super Bowl Halftime Show Criticism As "Disgusting" – Video
11 February 2014, 09:23 | Updated: 11 February 2014, 09:25
Bruno Mars' Inspiring Speech
07:58
The 'Locked Out Of Heaven' star speaks to Ellen DeGeneres about one particular review in the New York Times.
Bruno Mars has hit out at criticism of his Super Bowl halftime show and said it was "the most disgusting thing" he'd ever heard.
The New York Times published an article slamming the choice of Bruno for the iconic event insisting he wasn't a star because he wasn't constantly in the limelight or had a celebrity fragrance.
Ellen DeGeneres brought up the issue with the hitmaker during a chat on her show this week.
"I did hear that and I think that was by far the most disgusting thing I think I've heard," he said of the article. "Not because it was taking a shot at me, but I was thinking about aspiring young musicians who want to do this and even hearing the thought you need a fragrance or something like that is just is, you know what I would like to make a little speech and talk to them about this. Can I? Can I do that?"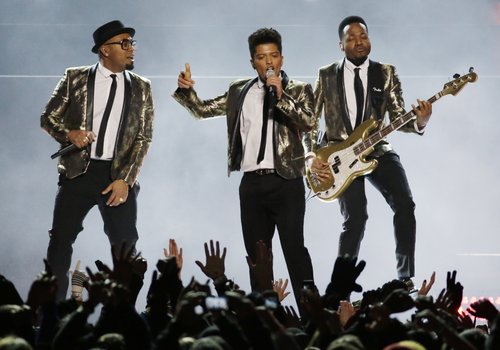 Bruno then proceeded to deliver an inspiring speech to the crowd culminating in rousing the audience with the theme from Rocky playing.
He then ran up and down the stairs to embrace the crowd in what was a touching moment.
Bruno performed a series of his biggest hits during the halftime show and was joined by the Red Hot Chili Peppers.
The rockers came under criticism themselves after it was revealed their instruments were not plugged in.

Bassist Flea issued a statement on the incident to clarify and reports and reveal the reasons behind their decision to perform at the event.