Grip Me Baby One More Time - Britney Spears Got VERY Up Close & Personal With A Male Fan On Stage
24 March 2017, 17:10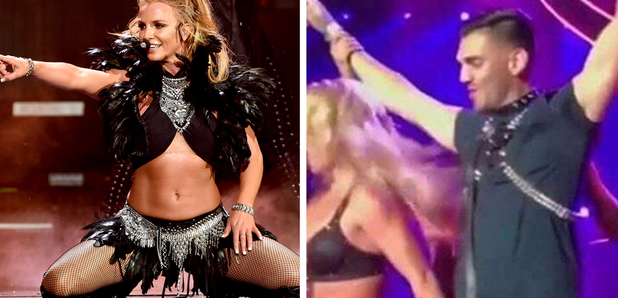 Britney is certainly taking things into her own hands.
Britney Spears has been performing in Las Vegas for a while now and she's not one to shy away from a show-stopping performance.
But whilst on stage at a recent show, Britters pulled up a male fan on stage and got VERY hands on with him!
Yes, Joe from Los Angeles was the fan in question and after having some leather straps and chains placed over him, Britney literally grabbed him in a very intimate area...
The show took place at Planet Hollywood as part of her Piece Of Me tour and it was during her song 'Freakshow' that the saucy incident took place.
Speaking to the crowd after dragging Joe on stage, Britney said, "He's so lovely he's like Prince Charming," before asking him, "What's your name?". After he informed her, Brit exclaimed, "Oh my gosh… he's amazing and oh so beautiful, oh my goodness."
Brit's outfits during the show left little to the imagination and she made a number of costume changes throughout - what a showwoman.
During a trip to the UK last year, Britney spotted a guy on a motorbike and exclaimed about how handsome he was, which sparked a huge manhunt as fans attempted to find him and let him know about Britney's affections towards him!
So it seems the mum of two isn't backwards in coming forwards when she likes the look of a man.
You may also like...