WATCH: Ariana Grande Restart A Song When A Fan Called Out They 'Weren't Ready' In This Hilarious Clip
28 August 2018, 12:56 | Updated: 28 August 2018, 15:27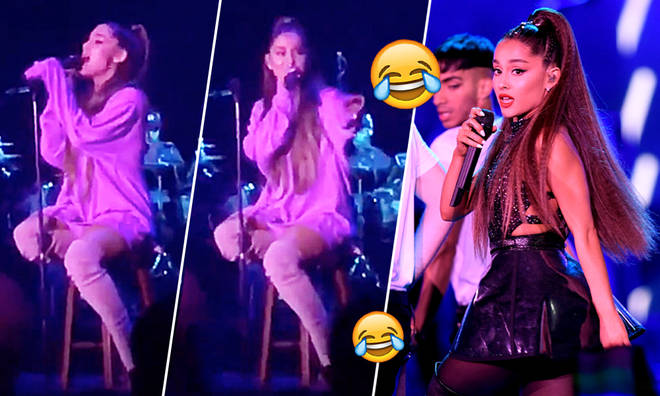 During one of Ariana Grande's Sweetener sessions, a fan yelled out asking for her to start again because he 'hadn't started recording yet', and hilariously, she agreed to!
Ariana Grande fans have been attending intimate listening sessions with her performing new album 'Sweetener' and at a recent show, the superstar re-started the first song 'raindrops' at the request of a fan who shouted out from the crowd to her with the demand.
16 Memes For Anyone Who's Fully Obsessed With Ariana Grande's 'Sweetener'
In the clip, a fan can be heard shouting: 'Wait, start again I wasn't recording' just after Ariana bursts into the song, only for her to stop singing, and ask if someone really just demanded the song to begin again, laughing at the whole ordeal, telling the crowd: "Someone said start again, I wasn't recording...and I listened, I was like, sure!"
She continues on to ask the fan, "Are you ready now?" as the fan can be heard shouting "Thank you!" as the audience erupts into laughter and we honestly love her so much more now.
Just when I think I can't love that woman anymore and then BOOM she does THAT

— Sophie (@trafotoz) August 26, 2018
I literally just fell in love with her for this 😍😍😍

— Black_Effect 🤜🏿🤛🏿 (@This_1120_Love) August 26, 2018
>Download Our Brand New App For All The Latest Ariana Grande News