Does Ariana Grande Have A Pierced Tongue?
30 November 2018, 11:20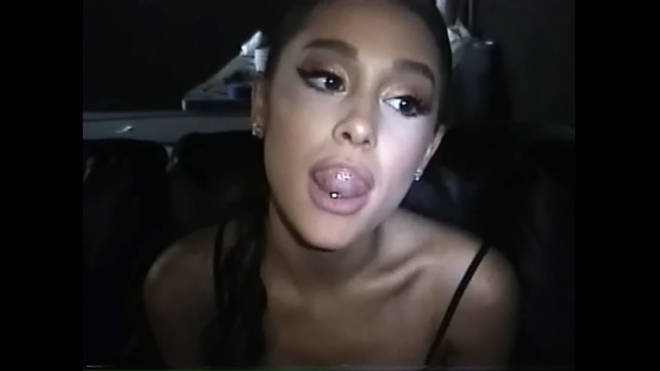 A video of Ariana Grande has surfaced, where she looks as if she has her tongue pierced, leaving the entire internet shook.
Ariana Grande has led her fans to question whether or not she has her tongue pierced, after a snippet of her surfaced rolling her tongue to reveal something metallic in her mouth.
Before releasing the music video for 'thank u, next', another clip left her Arianators shook, when she seemed to have a stud in her tongue.
> Who Are Ariana Grande's Celebrity Friends Set To Star In 'thank u, next' Video?
Some of the 'God is a woman' singer's fans are adamant that she has had her tongue pierced, while others believe that it is just reflection from the VHS lighting, after watching it several times.
I had to watch this several times until I realized that it wasn't a piercing 🤪 but honestly what a QUEEN! AM I RIGHT OR AM I RIGHT?!?? 🌙🌫

— THANK YOU, NEXT 💋 (@AudreyKeenan7) July 24, 2018
Lmao no it's from the VHS light

— Alfredo Flores (@AlfredoFlores) July 23, 2018
Ariana Grande hasn't been seen in public with a tongue piercing before, so it might be a recent accessory, or it could simply be a prop from her 'thank u, next' video, where she is seen dressing as several characters, including Reese Witherspoon's in Legally Blonde.
> Grab Our App To Get The Latest Deets On #CapitalJBB