Pete Davidson's Support For Ariana Grande After Mac Miller's Death Has Won Her Family Over
20 September 2018, 11:27 | Updated: 20 September 2018, 11:55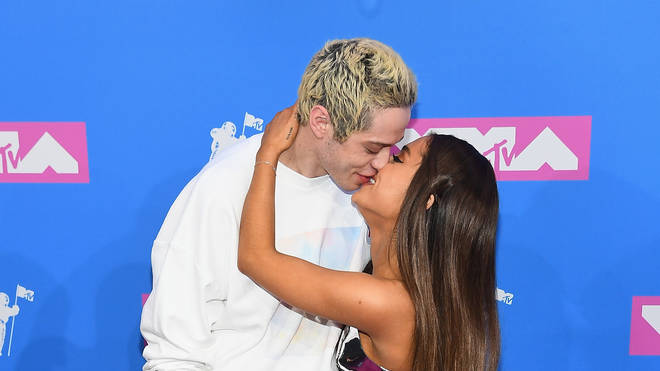 Pete Davidson has been a rock for Ariana Grande after the tragic death of her ex-boyfriend and her family are impressed with him.
It's obviously been a horrible couple of weeks for Ariana Grande following the loss of her ex-boyfriend of two years, Mac Miller, to a suspected overdose but her fiancé Pete Davidson has been amazing in supporting her through it.
> Ariana Grande Seen Dancing In The Rain In First Outing Since Ex Mac Miller's Death
A source has revealed to ET that Pete has been Ari's rock since the awful news broke, and his behaviour has won her family over to the idea of their whirlwind engagement. The source explained, "This year hasn't been easy at all for Ariana. Mac's death has been one of the most painful things she has ever had to deal with in her life.
"She loved him very much, but she knew she couldn't help him. Mac clearly needed rehab and Ariana couldn't be his girlfriend and his sober coach."
They also revealed that Ariana took trolls' claims she was to blame for Mac's death hard, "It caused her to feel terribly depressed. While she knows it's not her fault, hearing people telling her that was more than she could handle."
Pete's support for Ariana has also convinced her friends and family that their relationship can go the distance, with the source adding, "Since Mac's passing, Ariana has relied on Pete for support and now her friends have a different view on Ariana and Pete's future together.
"At first her family felt she hadn't thought things through and maybe she would change her mind, but just a few months later, Ariana and Pete seem to have an even stronger bond.
"While Ariana is only 25, she's had several relationships and feels she knows what she wants. With Pete she always says, 'I just knew it was right.' Everyone is beginning to see that they are determined to build a future and they seem great together."
In fact, they sound like the perfect couple – the source added, "They both are looking for that fairy-tale experience and they're giddy in love, it's very cute. This fall, they have been making plans to see each other as much as possible. Pete is definitely going to visit her on tour between SNL shoots."
>Download Our Brand New App For All The Latest Ariana Grande News