Pete Davidson Slams Claims Relationship With Ariana Grande Is "Toxic" Due To Mental Illness
25 May 2018, 12:46 | Updated: 25 May 2018, 14:58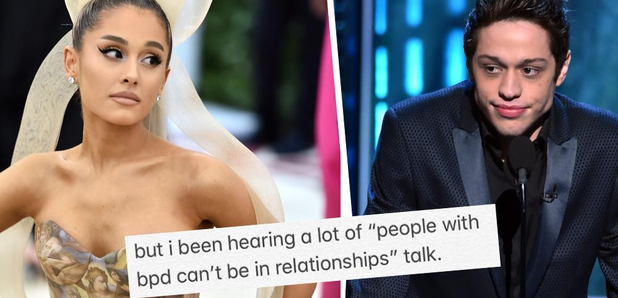 The Saturday Night Live star has hit back after critics slammed his rumoured relationship with Ariana Grande due to his bipolar disorder.
Following Ariana Grande's recent break up with rapper Mac Miller, rumours swiftly began circulating that the 'One Last Time' singer was now 'casually dating' SNL funny guy Pete Davidson.
Following the increased media attention that dating a pop superstar like Ariana Grande brings you, Pete then faced criticism and claims a relationship between the pair would never work because of his bipolar disorder.
> Who Is Ariana Grande's New Boyfriend, Pete Davidson? What Does He Do And Where Have I Seen Him Before?
Now the comedian has shared a public response to the claims and issued a strong response on Instagram which began, "Normally I wouldn't comment on something like this cause like f**k you."
Pete continued, "But I've been hearing a lot of 'people with BDP can't be in relationships' talk. I just wanna let you know that's not true. Just because someone has a mental illness does not mean they can't be happy and in a relationship. It also doesn't mean that person makes the relationship toxic."
"Everybody is different and there are a lot of treatments for mental illnesses and I have don/ am doing all of them. and I encourage those who struggle to seek help as well it has changed my life for the better."
"I just think it's f--ked up to stigmatize people as crazy and say that they are unable to do stuff that anyone can do," he continued. "It's not their fault and it's the wrong way for people to look at things. I may be crazy but at least I'm aware of it and not afraid to be honest about it and I'm not hiding behind a Twitter or Instagram account."
"I'm simply writing this because I want everyone out there who has an illness to know that it's not true and that anyone who says that is ill and full of s--t. Mental illness is not a joke it's a real thing. There's kids out there killing themselves. And it's f--king horrific. For all those struggling I want you to know that I love you and I understand you and it is going to be okay. That's all. Love to everyone else."
This all follows Ariana Grande hitting out at a fan who quizzed her on her new relationship with Pete on Twitter recently.
The rumours of Ariana and Pete dating are likely to continue in the wake of this public statement and it's even been rumoured that the pair have matching tattoos already!
> Download Our Free App For Loads More Ariana Grande News!