Robbie Williams Helping Adele With Stage Fright Ahead Of Oscars 2013 Performance?
18 February 2013, 11:48
The 'Someone Like You' singer will appear during a special James Bond segment of the show this weekend.
Robbie Williams is reportedly helping Adele to overcome her stage fright ahead of her performance at the 85th Academy Awards in Hollywood this weekend.
The 'Rumour Has It' singer will perform 'Skyfall' for the first time live during a special James Bond 50th anniversary segment of the Oscars on Sunday night (24th February).
It was recently revealed how the BRIT and Grammy Award winner was apparently terrified ahead of the performance – her first of 2013.
"Adele has suffered with terrible stage fright since she was 16, but now it's worse than ever," a source told the Daily Star. "She knows all eyes are on her after almost a year out of the spotlight, so she needed something to help her with it."
The 'Rolling In The Deep' singer was spotted on Valentine's Day visiting the Take That star with boyfriend Simon Konecki, and Robbie's wife Ayda is said to be also helping out with the singer's fears.
"Ayda was the first person to tell Adele about Belly Breathing, and how it had helped Robbie, 39, overcome his performing anxiety in recent years," the insider added. "She's being taught to breathe with her diaphragm instead of her chest, which is making an enormous difference."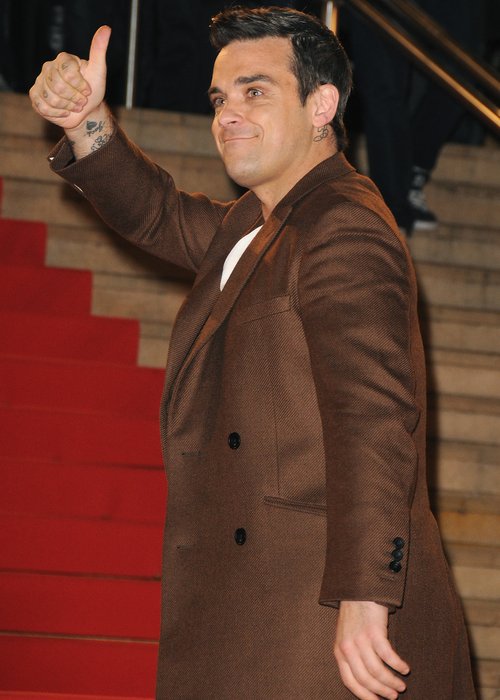 The source continued: "Adele has said it feels like she's in a whole new phase of her life where performing's concerned, and is confident she can beat her stage fright once and for all."
Adele was most recently seen attending the Grammy Awards 2013 this month – where she picked up the prize for Best Pop Solo Performance and presented on the night.
She also admitted that she was still in the very early stages of her new album and the follow up to 2011's hugely successful '21'.