5SOS Reveal 'Easier' Is The Start Of Their 'Best Era' As Edgy New Video Drops
22 May 2019, 17:05 | Updated: 23 May 2019, 14:31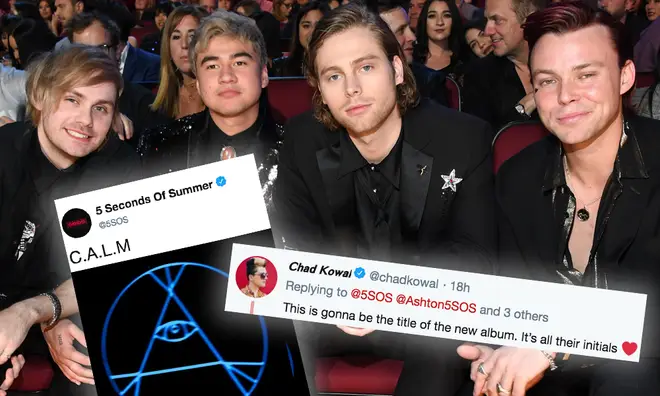 5SOS have dropped their new single and music video for 'Easier' signalling the start of their new era they say is their 'best yet.'
5 Seconds Of Summer's new track 'Easier' has just dropped along with a seriously edgy new music video and fans are desperately trying to work out what the band's 'new era' will be and what their fourth album has in store for everyone.
Liam Payne Hanging Out With 5SOS At Coachella Has Everyone Begging For A Collaboration
5 Seconds Of Summer - Easier
The moody video sees the band's frontman, Luke Hemmings, chained up inside a cave and belting out the lyrics "I love you so much that I hate you/ Right now, it's so hard to blame you/ 'Cause you're so damn beautiful" and the other boys playing their instruments in the dark surroundings.
Luke has said of the new single: "Easier' is the most confident we have been in the first song to be released off one of our records."
"Visually and sonically it feels like we took what we uncovered about ourselves as a band on the last album and honed in on that sound and aura."
"I truly believe that 'Easier' is the beginning of the best era for 5SOS."
Fans are already obsessed with the stunning visuals in the video, partly due to the departure it signals from their 'Youngblood' era, but true to the band's signature style, the beat is rocky and maybe their darkest to date.
They band dropped teased the song with four teasers- with the lyrics 'Is it easier to stay, is it easier to go?' blasting in the background, with everyone rushing to watch the full length video now it's dropped.
The teased 'symbols' each relates to one member of the band, with Ashton explaining what the 'blood moon and match' meant to him
He wrote: "The Blood Moon and the Match represents my internal battle between my darkness and light."
"It represents the true potential and self belief of the pursuit of greater imagination and patience for creation. It represents me on a higher spiritual level."
The band's official Twitter account also posted 'C.A.L.M', which is the initials of all four boys along with the cryptic symbols- with some fans even suggesting this will be the name of their next album.
One fan wrote in despair: "literally, how are we supposed to stay C.A.L.M after you drop these symbols that i don't understand???"
literally, how are we supposed to stay C.A.L.M after you drop these symbols that i don't understand???

— arie° (@UNVEILMAZE) May 21, 2019
wait is Luke really the eye and Calum this last symbol idk-how-to-call-it? i mean... WHAT IS GOING ON? I get Ashton because his tattoos and the drums, i get Michael because - oh well, thats his tattoo too... But Calum and Luke? someone help me understand, preferably the @5SOS pic.twitter.com/j7nMrnoqOM

— idiot 💜🖤 #EASIER (@KateIdiot88) May 21, 2019
Now we have the first single, we can start to see the direction the boys are headed in- and seeing as Charlie Puth has been stanning them hard recently, we're wondering if we'll hear any of the 'Attention' singer's influence in their tunes?
5 seconds of summer

— charlie puth (@charlieputh) May 18, 2019
> Download Our Brand New App For All The Latest 5SOS News