5SOS' Ashton Irwin Reveals He's 'At War With His Mental State' In Emotional Tweet
28 September 2018, 15:24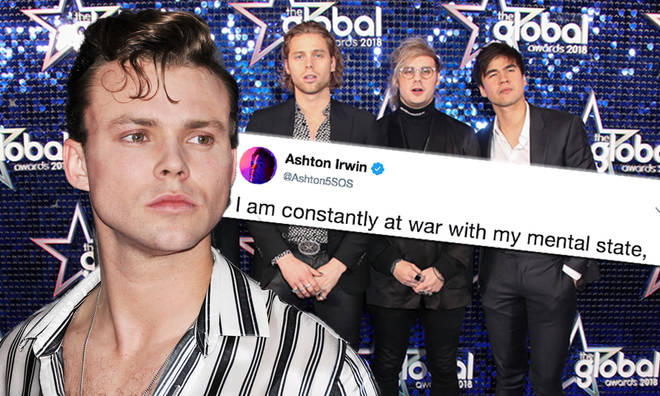 5SOS drummer Ashton Irwin has opened up about his struggles with mental health and the 'constant war' he battles with it, but gives an optimistic message to his fans about remaining 'brave and bold'.
5 Seconds Of Summer's Ashton Irwin is the latest celebrity to open about their struggle with mental health, in an incredibly honest tweet, the band's drummer admits his constant 'war' with his mental state but remembers the need to remain 'brave and bold in what you stand for'.
WATCH: Even 5SOS Spend Their Time Raving About How Much They Love 'Love Island'
The tweet reads: "I am constantly at war with my mental state, but I always remember that, to be powerful, you can't give people power over you. Be brave and bold when saying what you are, and what you stand for."
I never read any reviews,
because I am in constant review of myself. I want to be the best performer and artist I could ever be.
Love you all! ⚡️❤️

— Ashton Irwin (@Ashton5SOS) September 27, 2018
As everyone knows, 5SOS have an extremely loyal legion of fans who rushed to offer Ashton their support, even offering their own battles with mental illness and applauding him for being so open.
ever need to talk, we're here for you, please know it's okay not to be okay, your mental health is very important, we love you so much and the last thing we want to see is you hurt but hiding it. You're absolutely incredible and one of the most kind hearted people. Remember it's

— Vienna Loves Michael/ Save the only reason (@PokemonMikey95) September 27, 2018
i love you so much. youre such a wonderful human being, and you have such a kind heart. thank you for always giving us positive words and reminding us to love ourselves. i hope you love yourself too ash, dont be too hard on yourself. you mean a lot to a lot of people. ❤️

— hannah 🍯 | rt pinned ! (@whiteroseirwin) September 27, 2018
He has previously spoken about his history with depression and even the fear he would fall into alcoholism after the demands of being on tour saw the band pressured to be 'the life of the party' but has used time off to deal with his concerns 'head on'.
>Download Our Brand New App For All The Latest 5SOS News