Win A CEW Goody Bag With The Hot List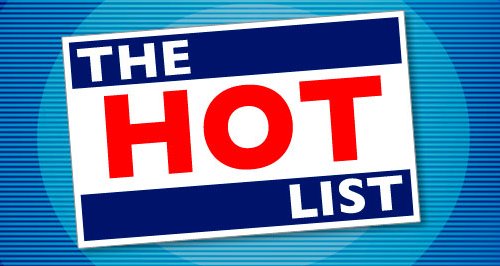 The Capital Hot List is our pick of what's hot right now. Plus, here's a chance to win a CEW goody bag packed with a fantastic selection of the 2015 CEW Beauty Awards finalist products.
Love fashion and being bang on trend? Then check out our top picks right here from Lisa, Dave and the Capital Team.
Together with CEW, we're giving you the chance to win an incredible goody bag, packed full of all the latest must-have beauty products, as voted for by the members of CEW. Just answer the question below.
And, you can also get your hands on the first ever Capital Beauty Box, including the exclusive 60 Seconds Super Shine Nail Polish by Rita Ora, Stila Smudge Stick, Pixi Lip Blush and more, just click here.




2015 CEW Beauty Awards

CEW is an organisation for professionals working in the beauty industry and the 2015 CEW Beauty Awards, sponsored this year by M&S, recognises innovation and creativity in products to reveal the must-have beauty buys for the year ahead. Click here for more information.

Now, you could get your hands on this CEW Beauty Awards finalist goody bag that will be bursting with all CEW's top beauty picks for 2015. Just answer the question below.





Rimmel 60 Seconds Super Shine Nail Polish by Rita Ora

Rita Ora is one superstar who knows nails like no other. All you need is one flawless stroke of her NEW Rimmel Nail Polish for a precise application of colour - wow!





Pixi Lip Blush

You'll love this sheer yet full-colour matte lip and cheek stain that creates a blushing healthy hue and lasts for up to eight hours.





Collection Eyes Uncovered Palette

Smokey eyes are always in style. This gorgeous palette from Collection Cosmetics has six fabulous shades to play with, so have fun discovering your rock star look!





Stila Smudge Stick Waterproof Eyeliner

Meet the budge-proof liner loved by the stars. Easy to use and it lasts all day (and all night) long!





Burt's Bees Lip Shimmer

A subtle lip colour that nourishes and hydrates? Yes please! This is a must-have for your handbag, the girls at Capital don't go anywhere without it!





StyLondon Temporary Tattoos

As seen on Rosie Huntington-Whiteley, these metallic tattoos are going to be all the rage this summer! Perfect on the beach or for a night out, stay ahead of the trend and start experimenting now!





Collection Lengthening Mascara

Get long fluttery eye-lashes that even Katy Perry would be proud of! The Collection Lengthening Mascara uses a unique rubber brush to make sure the product is distributed evenly to even the finest of lashes!





Nail buffer

The perfect accessory for any girl on-the-go, pop this nail buffer in your handbag to keep your nails looking perfect.




Jimmy Choo Fragrance

Nothing completes your party look better than the perfect scent and this is one of our favourites. Perfectly feminine and full of glamour!
Win A CEW Goody Bag Worth Over £500
To celebrate the 10th Anniversary of the CEW (Cosmetic Executive Women) Beauty Awards, we're giving you the chance to win a goody bag packed with some of the best in beauty.

Now you can try them out for yourself as we have got our hands on a bag filled with a selection of the CEW Beauty Awards Finalist products. Just answer the question below by 23:59 on 24th April.