#WayBackWHENsday: 7 Headline-Grabbing Moments From This Time Last Year
9 July 2014, 11:06 | Updated: 4 December 2017, 11:10
Poor Hazza! During a show in Pittsburgh, USA, Harry was rushed off stage after reportedly vomiting. The rest of the group had to finish their performance of 'Rock With Me' without Mr Styles, who hid behind part of the set to be sick. He couldn't escape from one eagle-eyed fan, though, who uploaded the footage to YouTube!
The 'Glee' star was found dead in his hotel room in Vancouver on 13th July 2013. The 31-year-old played Finn Hudson in the popular US TV show for several years, and was dating co-star Lea Michelle. Stars including former girlfriend Taylor Swift, One D's Niall Horan and Nathan Sykes used Twitter to pay their respects.
Such incredibly sad news about Cory Monteith. Brilliantly talented guy. Thoughts go out to friends, family and fans at such a sad time

— Nathan Sykes (@NathanSykes) July 14, 2013
Speechless. And for the worst reason.

— Taylor Swift (@taylorswift13) July 14, 2013
Little Monsters across the world had a huge surprise when they logged in to Twitter this time last year - when Mother Monster's account had mysteriously shut down! The 'Born This Way' singer is rumoured to have closed her account on the social media site to promote her third studio album 'ARTPOP'.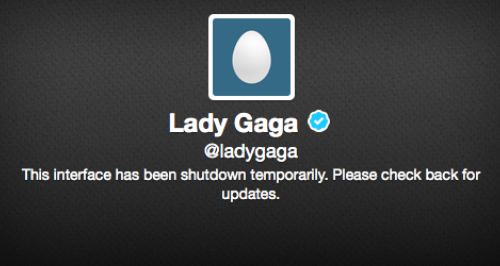 The 'Lego House' singer freestyle to Brit's debut single 'Baby One More Time' whilst visiting a radio in the States. He even had to apologise for slipping in to an American accent to rap - #awks!
"I like what she's doing, it's fearless," Jay-Z revealed during an interview on The Angie Show in America. "I mean just being herself, expressing herself you know?
"I think it's more reaction to people wanting her to be Hannah Montana," he explained. "Just watching the situation, people want her to be something and she's like, 'I'm not that. I was 6 years-old. You want me to be 6 years old forever?'"
You go girl!
Picture: justpiekniedzis Tumblr
They were the hottest music/F1 cross-over couple in the world for 5 years, but in July 2013 the pair decided to go their separate ways.
"I'm trying my hardest to be positive but I'm going through a really, really tough time at the moment with the loss of someone really, really special in my life," Lewis told Sky Sports. "My world's been turned upside down."
(Spoiler alert: The pair did eventually reunite and are still happily together!)
Picture: F1-GIFS Tumblr
Poor RPatz! According to Touch magazine, the Twlight mega-star was refused access to go backstage at Queen Bey's show in LA!
"They tried to sneak into the meet and greet!" an insider told the magazine. "After they weren't allowed in, [Rob] waited for 10 minutes at the door and security said no."
Gutted!
Picture: Theappleisthefruit Tumblr

What was rocking your world this time last year? Hit us up on Twitter @CapitalOfficial with #WayBackWHENsday