Congratulations Are In Order! Vicky Pattison Announces She's Engaged To John Noble!
17 July 2017, 16:09 | Updated: 4 December 2017, 11:10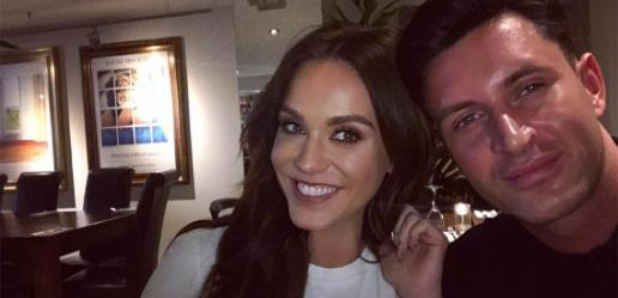 Just wait 'til you see the ring!
We love a good wedding and it looks like we have another set of celeb nuptials to look forward to – Vicky Pattison has announced that she's engaged to John Noble!
The former Geordie Shore star made the announcement on Instagram where she showed off her 3.6 carat marquise cut diamond ring as she told her fans she had said 'yes' to the big question.
Speaking to OK, Vicky revealed, "I was spending a few days at John's house, which is just outside Newcastle and surrounded by lovely countryside. One morning he suggested we take his dog Roxie out for a walk.
"After a while we stopped for a sit down on a bench overlooking some lovely scenery. I was playing with Roxie when she shook her head and got slobber all over my face. When I wiped it away, John was in front of me on one knee. I couldn't believe it, I burst into tears. I said yes and then I looked at the ring and I was blown away, it was amazing."
The star had no idea her boyfriend was planning to propose and instead thought he might be thinking of ending things when he started acting suspiciously. She explained, "In the days leading up to the proposal I was convinced that he was about to break up with me! We'd had a difficult few weeks because I had been really busy with work and couldn't make it to see him.
"I was hoping he would come to see me [in Essex] but he kept saying he had too much on. It was so out of character for him that I started panicking, thinking he was going to finish things with me. I was crying to all my friends all the time and arguing with him on the phone because I was so sure he didn't want to be with me anymore.
"It's weird, because the day before he proposed I was on Lorraine and she said live on air that he'd better ask me to marry him soon!"
Vicky and John had previously dated eight years ago for about six months after meeting at a house party but split up when she decided to go into the Geordie Shore house.
The couple didn't have any contact for years then bumped into each other by chance on a train – and the rest is history! Vicky explained, "It might seem soon to some people, but John and I have spent years struggling to find true love. Now we've found it, there's no point waiting around."
Congrats, guys – we can't wait to see the dress!