Capital Up Close Presents Ariana Grande: Frequently Asked Questions
29 August 2018, 15:31 | Updated: 1 September 2018, 11:31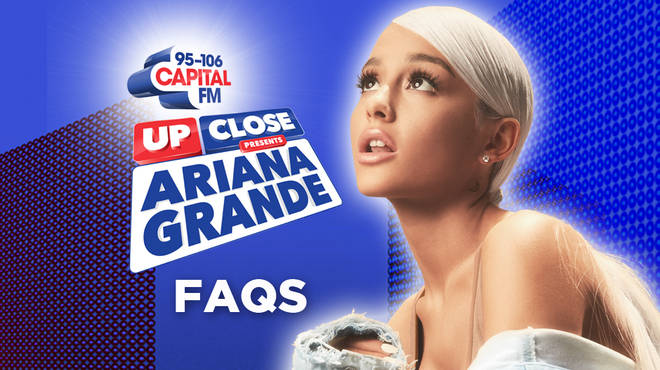 Here's everything you need to know if you're attending or even wanting to attend Capital's exclusive gig with Ariana Grande.
When and where is Capital Up Close Presents Ariana Grande?
We're bringing Ariana to London's KOKO on Tuesday 4th September 2018 for Capital Up Close Presents Ariana Grande.
What time does #CapitalUpClose start?
Doors will open at 7:30PM and the event will start at 8:30PM (times are subject to change so please ensure you check for the latest times nearer to the event.)
What is the #CapitalUpClose security?
There will be lots of security checks in place on the day as you'd hope and expect.
Where can I buy tickets to #CapitalUpClose?
Global, owners of Capital, have given a lot of thought regarding the fairest way to distribute the small number of tickets available to the public.
With less than 500 tickets available for all Capital listeners across the UK, we concluded the fairest way was to make the tickets completely free and open to all, and to pick winners entering the competition at random.
Fans will also be able to hear and see highlights from this intimate event on Capital, at Capitalfm.com, on @CapitalOfficial and on Capital TV.
Anyone buying a ticket would be purchasing from an unofficial source and the ticket would be invalid for entry.
For more information about our on-air competition head here and to enter our online competition head here.
How old do I need to be to enter to win tickets?
All entrants to the competition must be aged 16 or over. All patrons to the event must be aged 14 years of age or over and have photographic ID in order to gain entry to the event. Anyone under the age of 16 must be accompanied by an adult, who is 18 years or over. Check out the full Ts&Cs here.
Can I bring my bag to #CapitalUpClose?
The maximum bag size you can bring into the venue is 30x20cm which is A4 sized.
I've won tickets to #CapitalUpClose, how will I get them?
If you win tickets up to and including Thursday 30th August 2018 your tickets will be sent out directly to you. If you win tickets on Friday 31st August 2018 your tickets will be available to be picked up directly at the venue.
How do I get to #CapitalUpClose?
Check out the travel advice given by London's KOKO directly here.
Can I bring a camera to #CapitalUpClose?
We will allow small consumer-type cameras into London's KOKO but not professional SLR-type ones.