WATCH: 'The Circle' Viewers In Hysterics As Richard Madeley Trips Over Entering 'Prison' Apartment
24 September 2019, 12:30 | Updated: 25 September 2019, 14:16
The Circle's viewers were left in fits of giggles as 'real life Alan Partidge' Richard Madeley's trips over entering 'prison' apartment and everyone's excited to see what he has in store.
Good Morning Britain's Richard Madeley has officially entered The Circle's 'prison' apartment after being announced as a surprise contestant on the second series of the catfish gameshow and is already providing the entertainment.
> The Circle 2019 Prize: How Much The Season Two Winner Will Receive
He left viewers in hysterics after tripping up as he entered the plush apartment, bringing his guitar with him, talking to himself about the novel he intends to write during his time in there, and even branding the room a 'nice prison'.
People on Twitter branded him the 'real life Alan Partridge' and can't believe they're about to get 24/7 uncensored TV of the iconic television personality.
One user simply wrote, "richard madeley has been locked in an apartment on his own with a guitar and they're televising it" and we'd say that sums it up pretty well so far.
richard madeley has been locked in an apartment on his own with a guitar and they're televising it

— Joe (@steamedhamms) September 24, 2019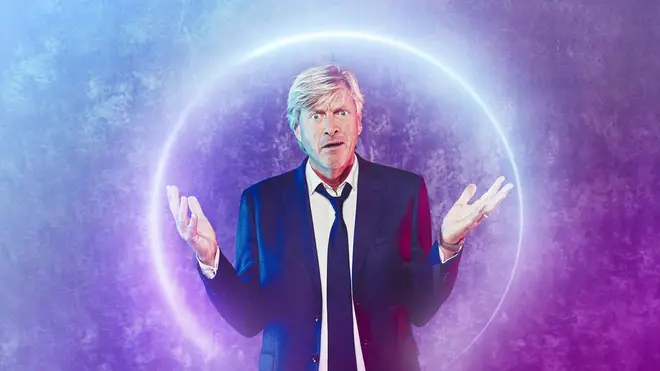 The 63-year-old presenter may have entered the show, but his role has a twist, as fans of the reality series will determine his profile by voting on The Circle's app, and we cannot wait to see what viewers come up with.
"I get asked to do all kinds of things all the time, and usually the answer is, 'No, thank you', because it either sounds a bit boring, or I've kind of done it before," said the former This Morning host.
Richard continued to say "This is genuinely different.
"It's not your normal reality show. It's got quite a lot going for it intellectually as well as being a lot of fun."
> Grab Our App For The Latest News And Gossip From The Circle
He went on to speak about the game plan he'll have during the show, saying he'll "be quite kind while talking to people and stay away from difficult topics that can easily be misinterpreted".
Richard joins Zoe Ball and Fatboy Slim's son Woody as a contestant on The Circle, which airs on Tuesday, 24 September.