WATCH: Spider-Man Tom Holland Proves Superheroes DO Exist After Surprising Kids At A Hospital
7 June 2017, 13:53 | Updated: 4 December 2017, 11:10
He's not just a superhero onscreen you know.
With Tom Holland's brand new Spider-Man movie ready to hit the screen, the young star has been doing the rounds to promote the movie. BUT, it's not just press junkets and red carpets that the webslinger has been turning up at.
From Zero To Hero: Here's What Movies Best Heroes Looked Like Before They Got Their Super Bodies
Earlier this week, the 21 year old actor swung by Children's Hospital L.A. to meet some of his fans and we think it's safe to say he left an impression.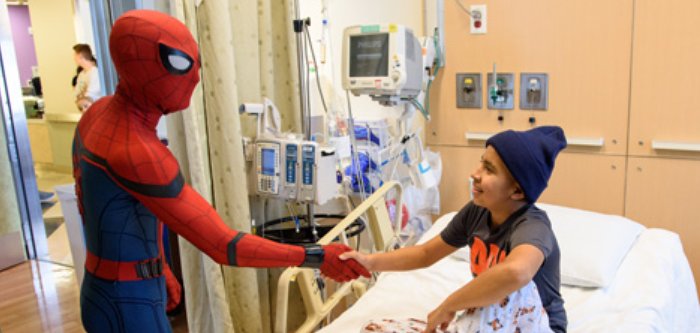 Pic:Children's Hospital L.A
Not content with just chatting to the kids, he even showed off a stunt or two, (being an accomplished gymnast as well as an actor) flipping around the corridors like only a true Spidey can.
WATCH: Phil Coulson From Marvel's Avengers Just Performed Britney Spears' 'Toxic'… In Costume!
Fans across Twitter have been quick to praise the young actor...
June 3, 2017
i'm crying omg i love him so much

— • helen • exams • (@heluwondy) June 2, 2017
That's definitely what the real spiderman would do and another reason why tom is the best spidey!

— darkknightfan75 (@oliverrain1) June 2, 2017
Btw...if you haven't seen former Spidey star Andrew Garfield lip-syncing to Whitney Houston, you need to, like right now...