Watch: Jonas Brothers Reveal Why They Ditched Their Purity Rings
3 August 2023, 15:16
Jonas Brothers reveal why they DITCHED their purity rings | Capital
The Jonas Brothers went through responding – and shredding – letters they received from fans while hanging out with us backstage at Capital's Summertime Ball.
The Jonas Brothers responded to fans' burning questions about the boys' music, memories and more ahead of their #CapitalSTB performance in June.
However, we also left a shredder next to the boys so that they could shred any letters they didn't want to answer
Questions ranged from 'what's your favourite moment since the band got back together?' to 'please recreate a deep conversation you've had at a waffle house,' and the answers are exactly what we wanted.
Watch the Jonas Brothers answer fan mail and similar videos on Global Player.
Jonas Brothers' UK Tour: Five Albums, One Night – Dates, Venues And Ticket Info
And after years of theories, they finally answered the age-old question of what made them throw away their purity rings. And their answer was exactly as expected.
"Sex," they each confidently answered in unison.
The stars wore the rings throughout the early days of their careers as a symbol they were abstaining from sex before marriage
They recently opened up about their decision to wear the rings, telling Andy Cohen they didn't know the extent of what they were agreeing to.
Nick said: "In theory, they're not a bad idea," he said. "But you should know what you're signing up for before you sign up for it."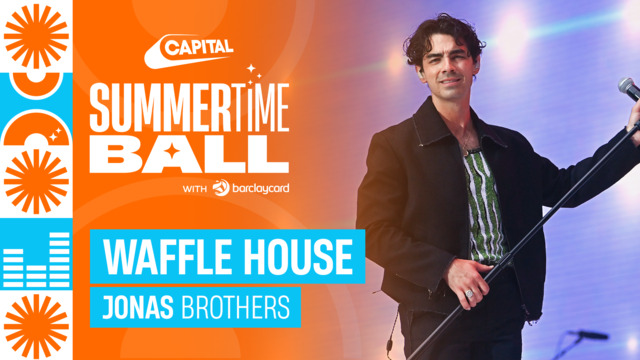 Jonas Brothers - Waffle House (live at Capital's Summertime Ball 2023)
As the boys continued working their way through the fan mail we also got to hear Nick say, "you clever sausage" which wasn't on our wish list for this feature but we're so glad that's what came out of it.
Another fan quizzed in their letter, "if you weren't the Jonas Brothers, what would you be called?"
We also got to see the singers debate who is the most famous brother.
Watch the Jonas Brothers answer fan mail and similar videos on Global Player.