Stranger Things' Finn Wolfhard Accidentally Drank From A Bidet & Only Just Found Out What They're For
1 November 2017, 16:40 | Updated: 4 December 2017, 11:10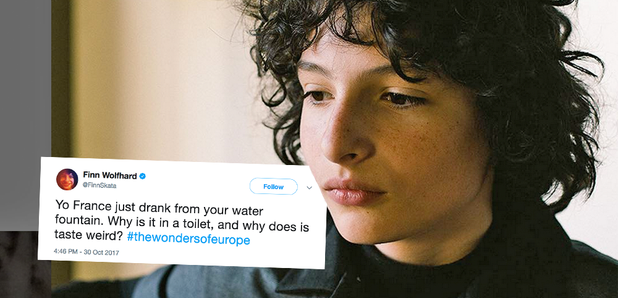 We're hoping he's ok!
When it comes to Stranger Things, Mike Wheeler is a pretty big deal. He's the BFF of everyone's favourite character Eleven, and is an all round awesome guy.
Sadly for actor Finn Wolfhard who plays Mike, he suffered a misfortune almost as bad as the kids in the show by drinking water from a bidet in a French bathroom recently.
> There's A Fan Theory That Zac Efron Is The Son Of A 'Stranger Things' Character & It Makes SO Much Sense
Finn was in France promoting the second series of the show when he clearly needed to freshen up and hydrate himself, so he opted to drink from what he thought was a random water fountain in his hotel bathroom.
Yo France just drank from your water fountain. Why is it in a toilet, and why does is taste weird? #thewondersofeurope

— Finn Wolfhard (@FinnSkata) October 30, 2017
As we all know, bidet's are not drinking fountains but are actually there so you can clean yourself after using the toilet, something which Finn quickly found out after tweeting about the weird tasting water he'd just consumed...
Update just found out the toilet water fountain is called a bidet?? Stay tuned for more details.

— Finn Wolfhard (@FinnSkata) October 30, 2017
Oh god pic.twitter.com/2PsDpdmkhb

— Finn Wolfhard (@FinnSkata) October 30, 2017
After staying tuned for more details as Finn asked us to do, we then noticed that shortly afterwards his co-star, 13 year old actor Noah Schnapp had been taken to hospital and had been hooked up to an IV drip.
As he was due to appear on Good Morning America alongside the rest of the 'Stranger Things' cast, he decided to tweet an apology which included a picture of himself from his hospital bed...
Hi GMA and ST fans! Sorry I am missing this! Life imitating art Nothin' serious but bummed I won't make it. Have fun tomorrow! pic.twitter.com/j0M5ZuaKVg

— Noah Schnapp (@noah_schnapp) October 31, 2017
He revealed that he had been taken to hospital to rest up from bad flu that he'd got, but we're hoping that thadn't been drinking from bidet's as well!
> Download Our Fancy New App For All The Latest Stranger Things Chat!
Whilst you're here, see if you can beat Finn and